20+ Chandni Chowk Lehengas On Real Brides We Are Loving!
When it comes to bridal shopping, Chandni Chowk is a must- yup, it has to feature in your bridal shopping research, especially if you're a Delhi bride! And believe us when we tell you, you might just find a gem out there for any of the functions even if you're set on wearing one of the bigger designers! So here are some real brides who found some
stunning lehengas from Chandni Chowk
!
Pastel paradise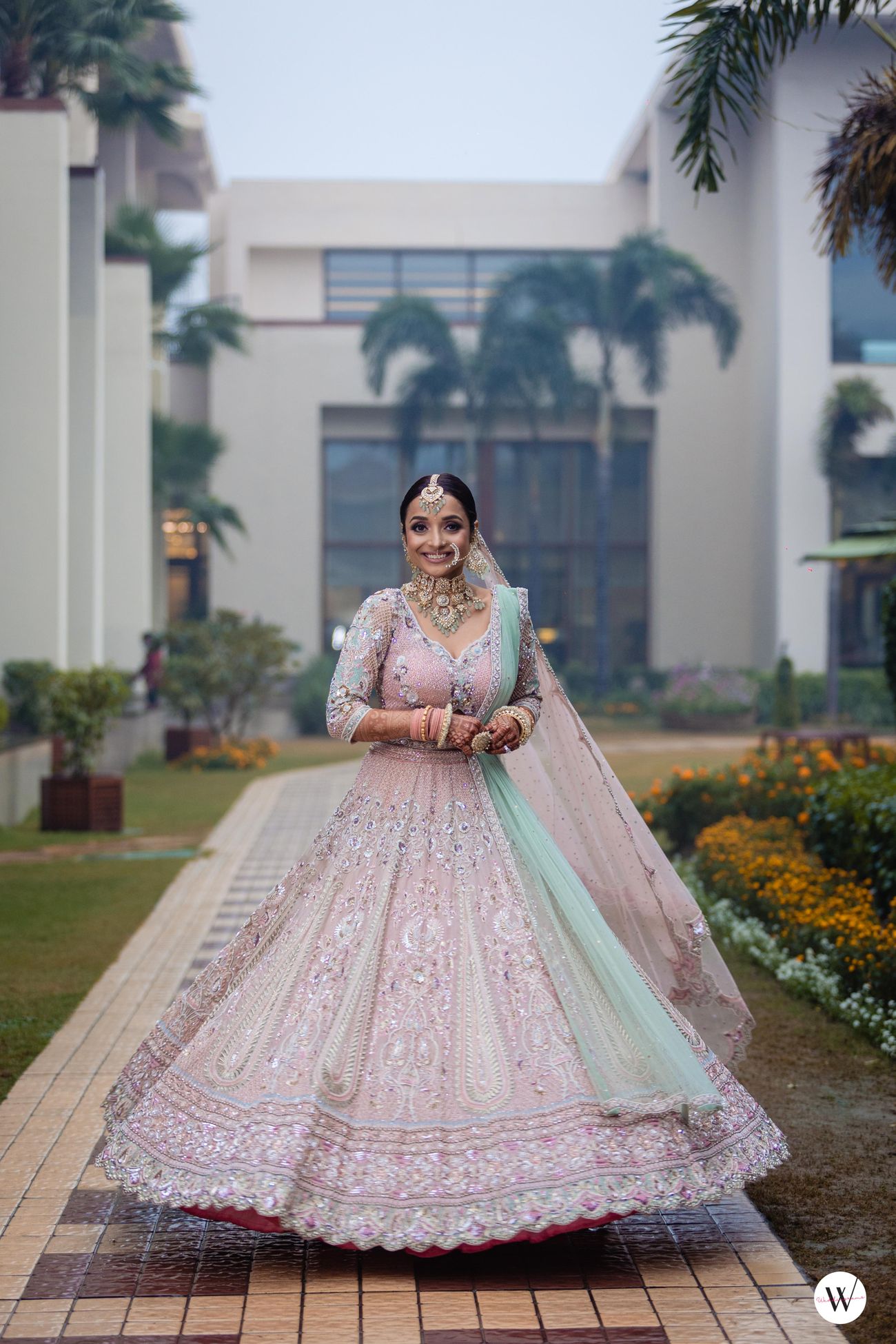 Image via Shreya and Rohit
Love everything about this lehenga from Shrangar Chandni Chowk– right from the colour combination to the dainty feels.
Ivory and gold at its best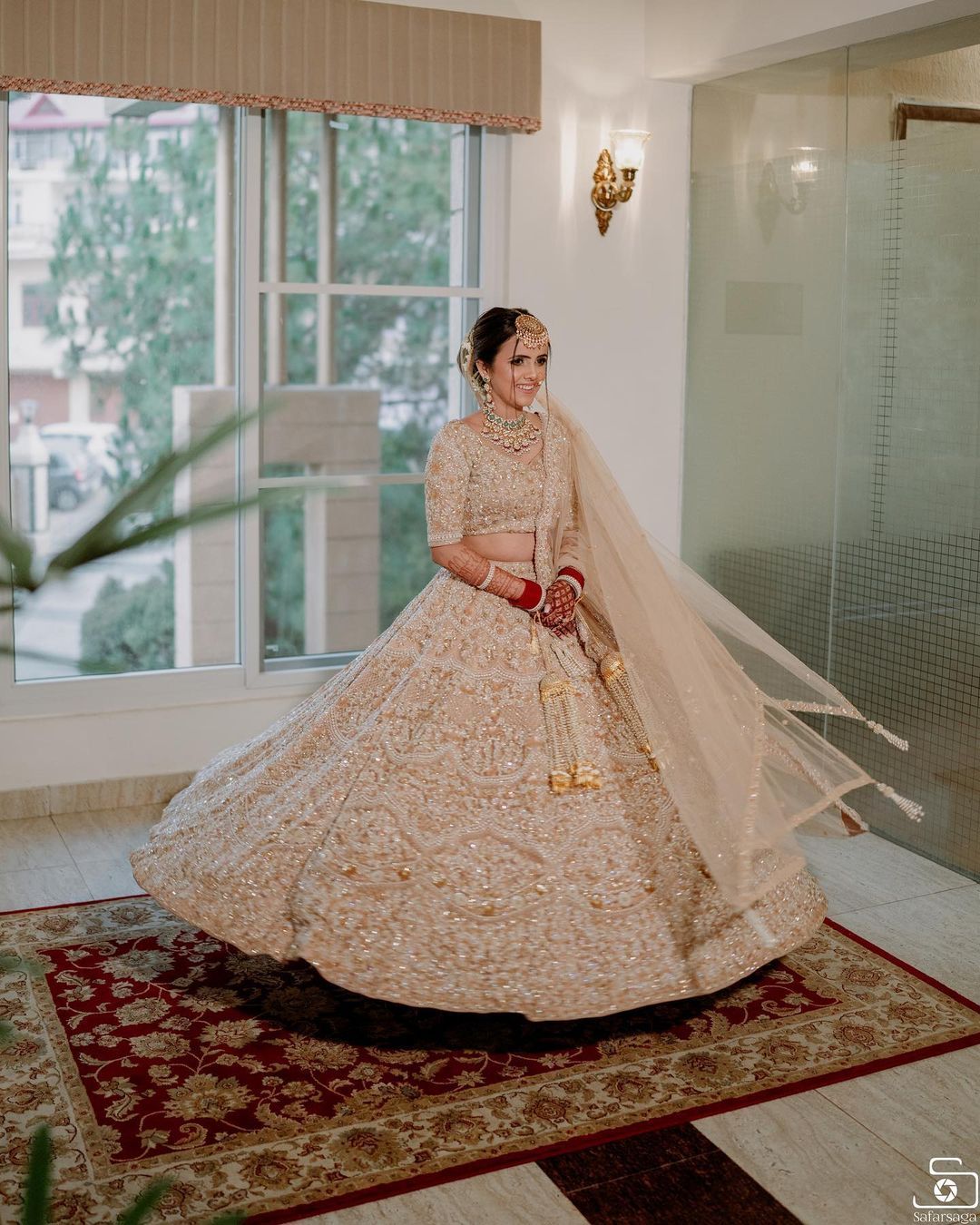 Image via Safarsaga Films★ 4.9
This bride wore the colours of the season- ivory and gold! Her glorious lehenga was from Ram Kishan Sarees★ 4.3
Bling it on!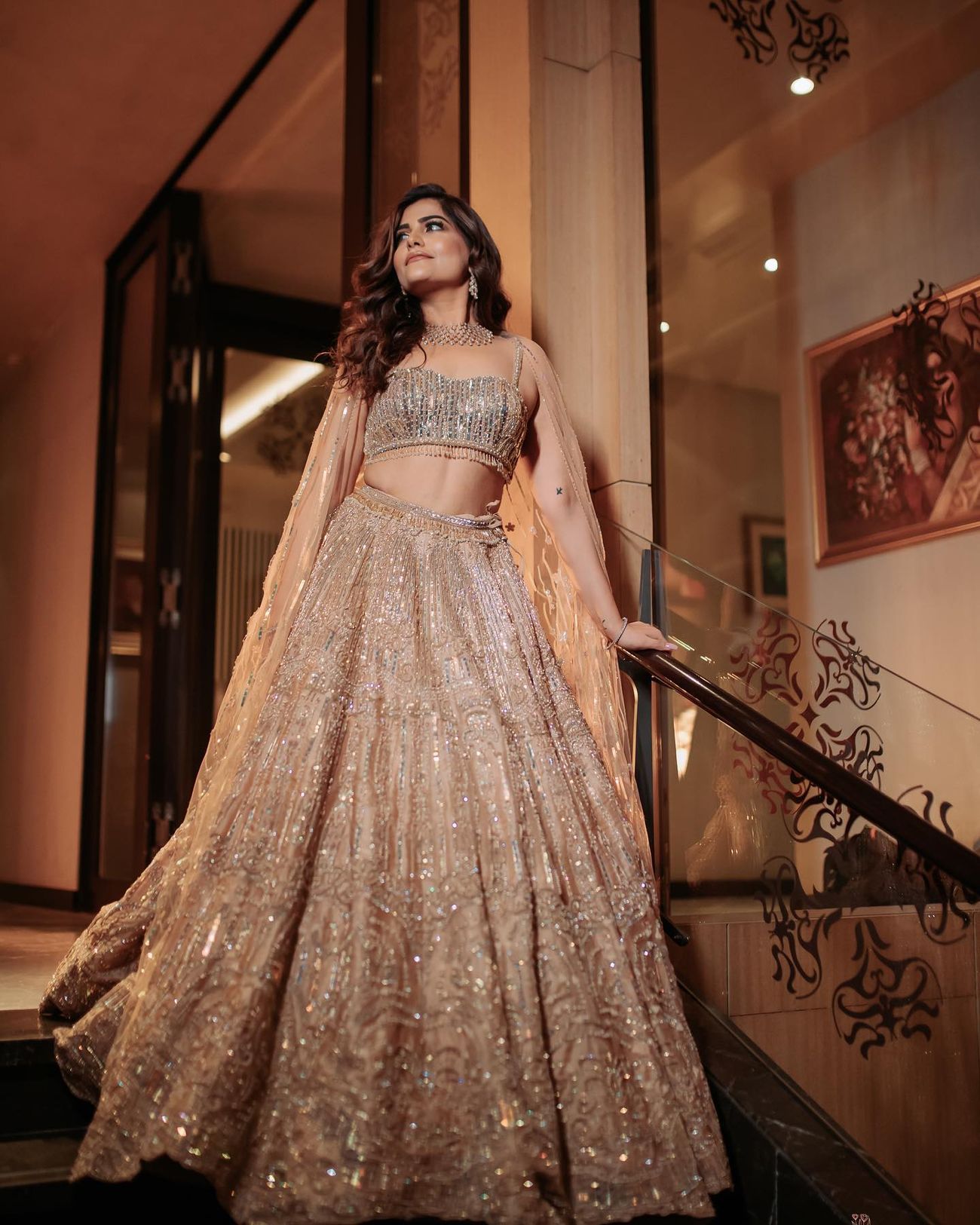 Image via thatbohogirl, Outfit by Payal Keyal Design ★ 4.5
Fashion influencer Kritika Khurana embraced mystical glamour in her shimmery gold lehenga from Payal Keyal for her engagement.
A riot of colours!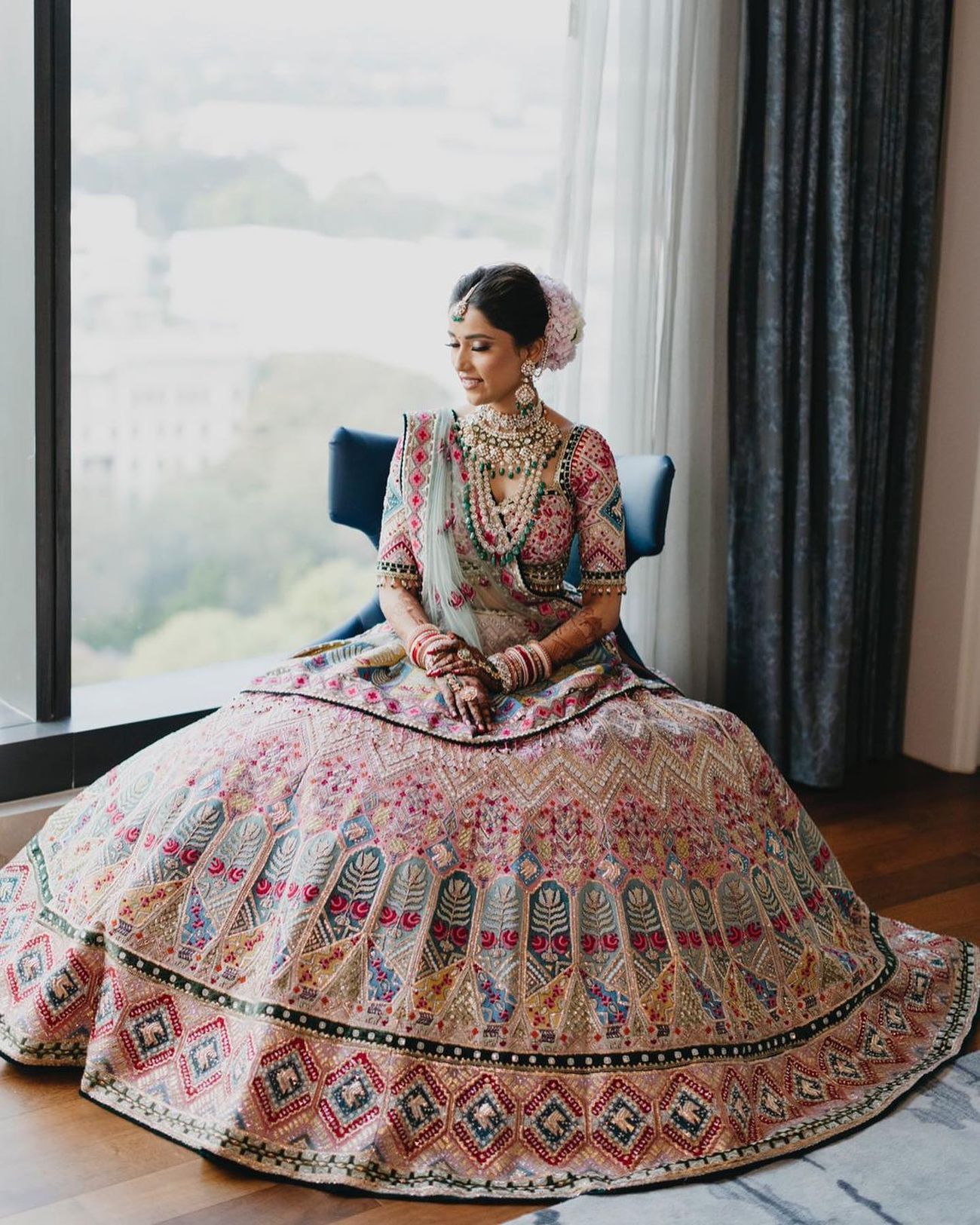 Image via Hriya Marfatia ★ 4 , Outfit by Shrangar Chandni Chowk★ 4.3
Falling hard for this bride's multi-hued bridal stunner from Shrangar that makes for a perfect fit for a day wedding!
Of velveteen elegance and regalia!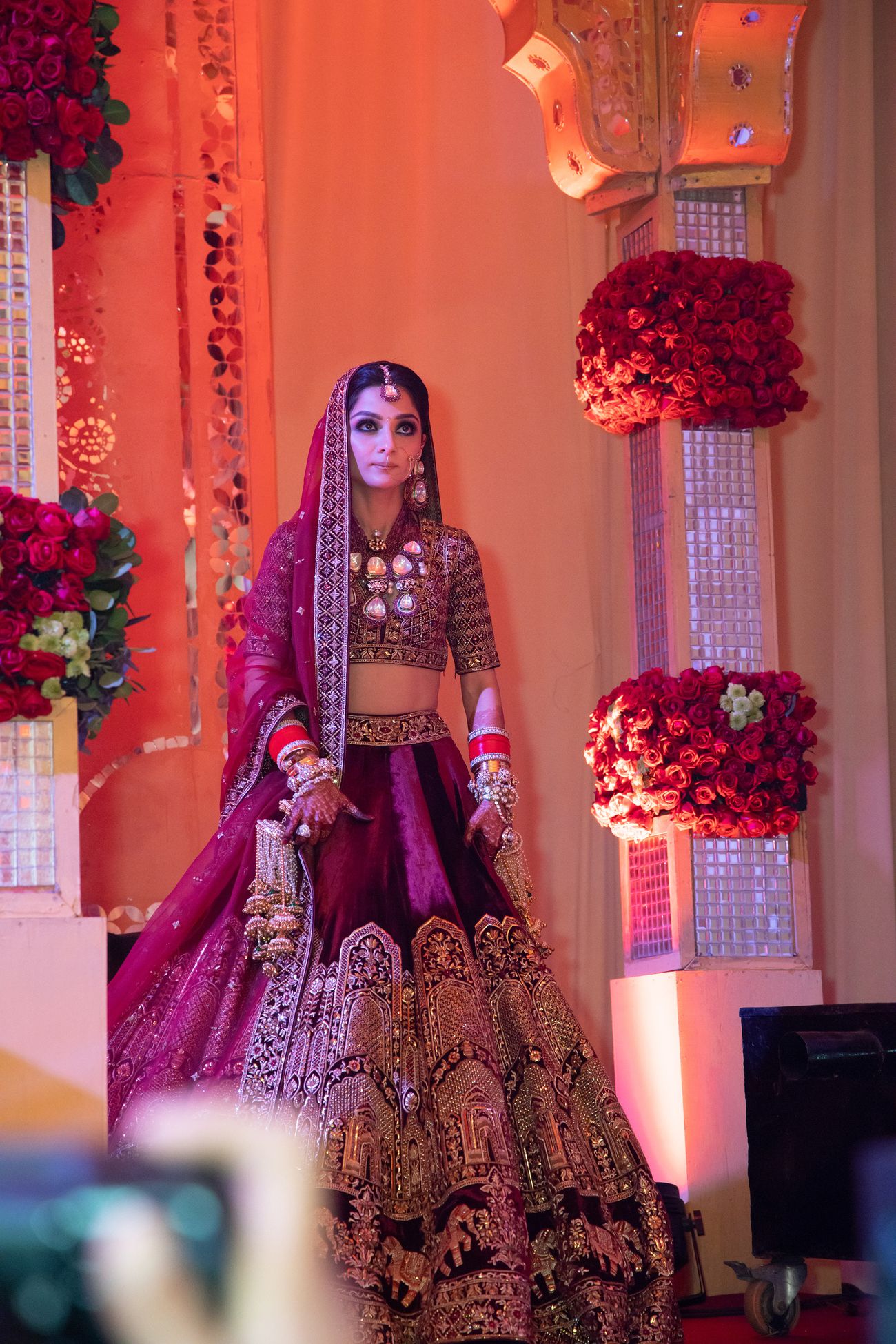 Image via Reha & Mohiitt, Outfit by Om Parkash Jawahar Lal -Bridal Wear★ 4.1
We cannot get enough of this bride's velvet lehenga from Om Prakash Jawahar Lal. It's not your usual type.
All things pretty!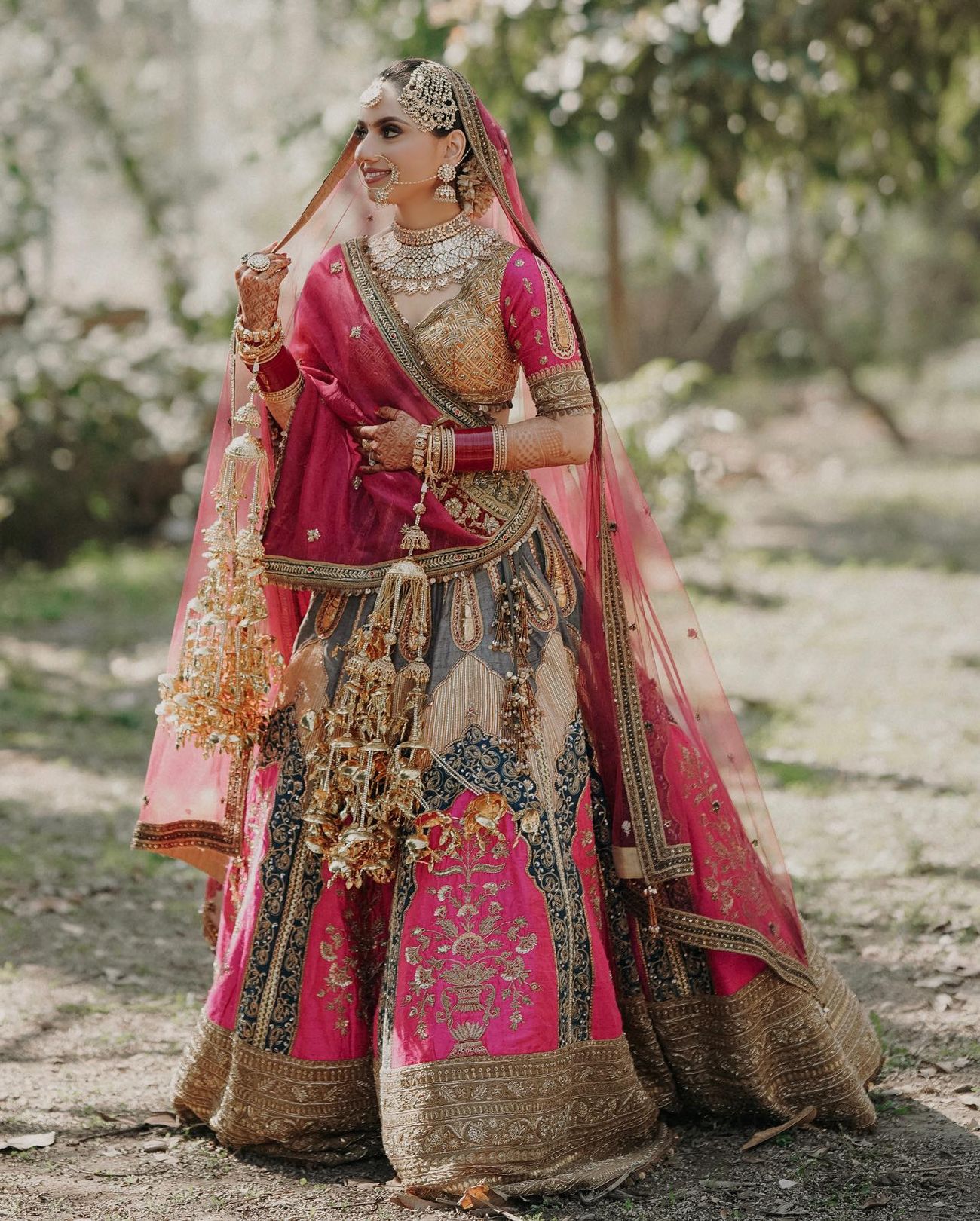 Image via Tripti Malhotra★ 4.9 , Outfit by Marwar Couture
This bride's panelled lehenga from  is our dress of choice for an offbeat bridal look! What about you?
For the love of pastel hues!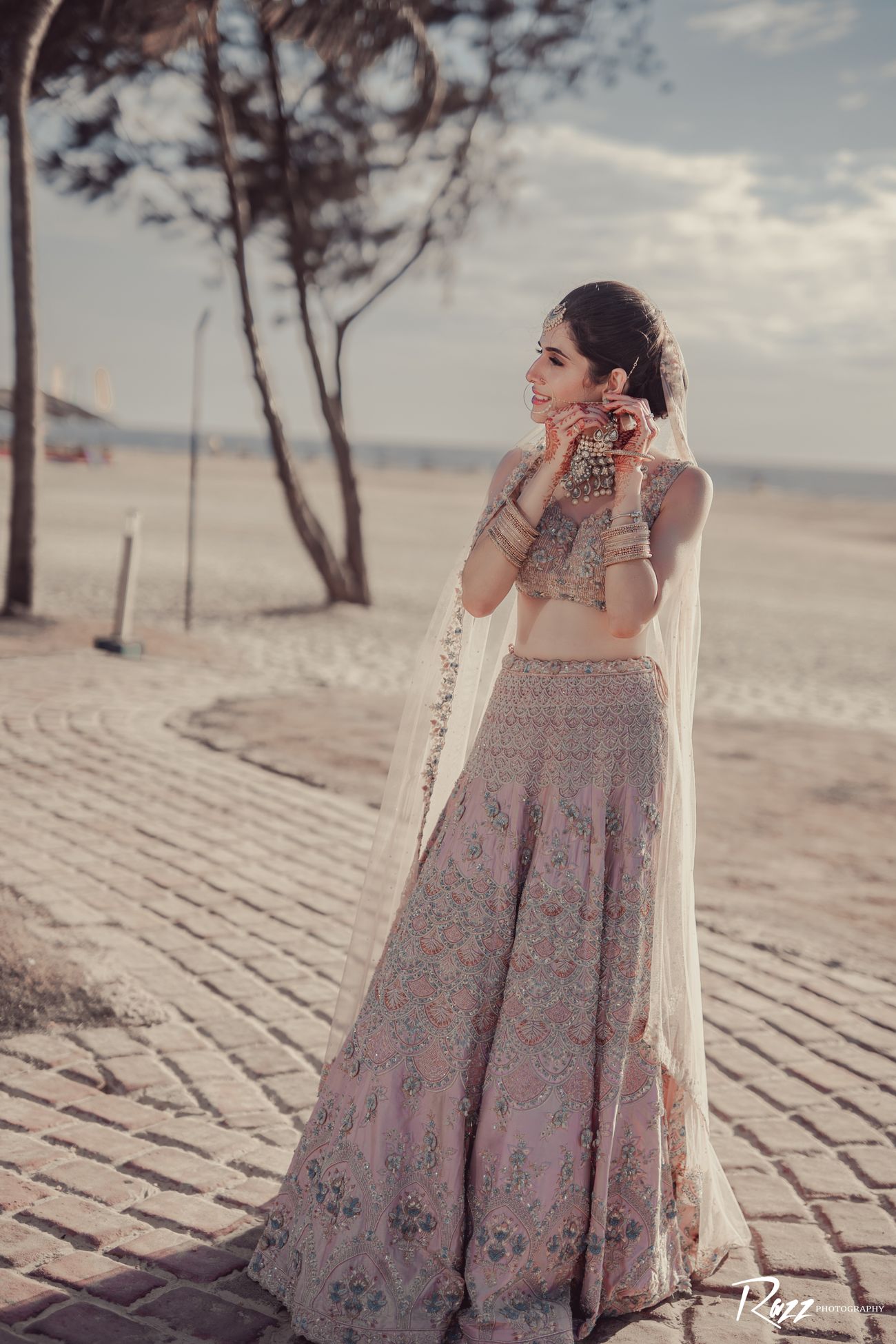 Image via Mehak & Sejal, Outfit by Asiana Couture – Chandni Chowk★ 4
Spell sheer elegance in this blush pink lehenga from that looks every bit stunning!
Oozing with opulence!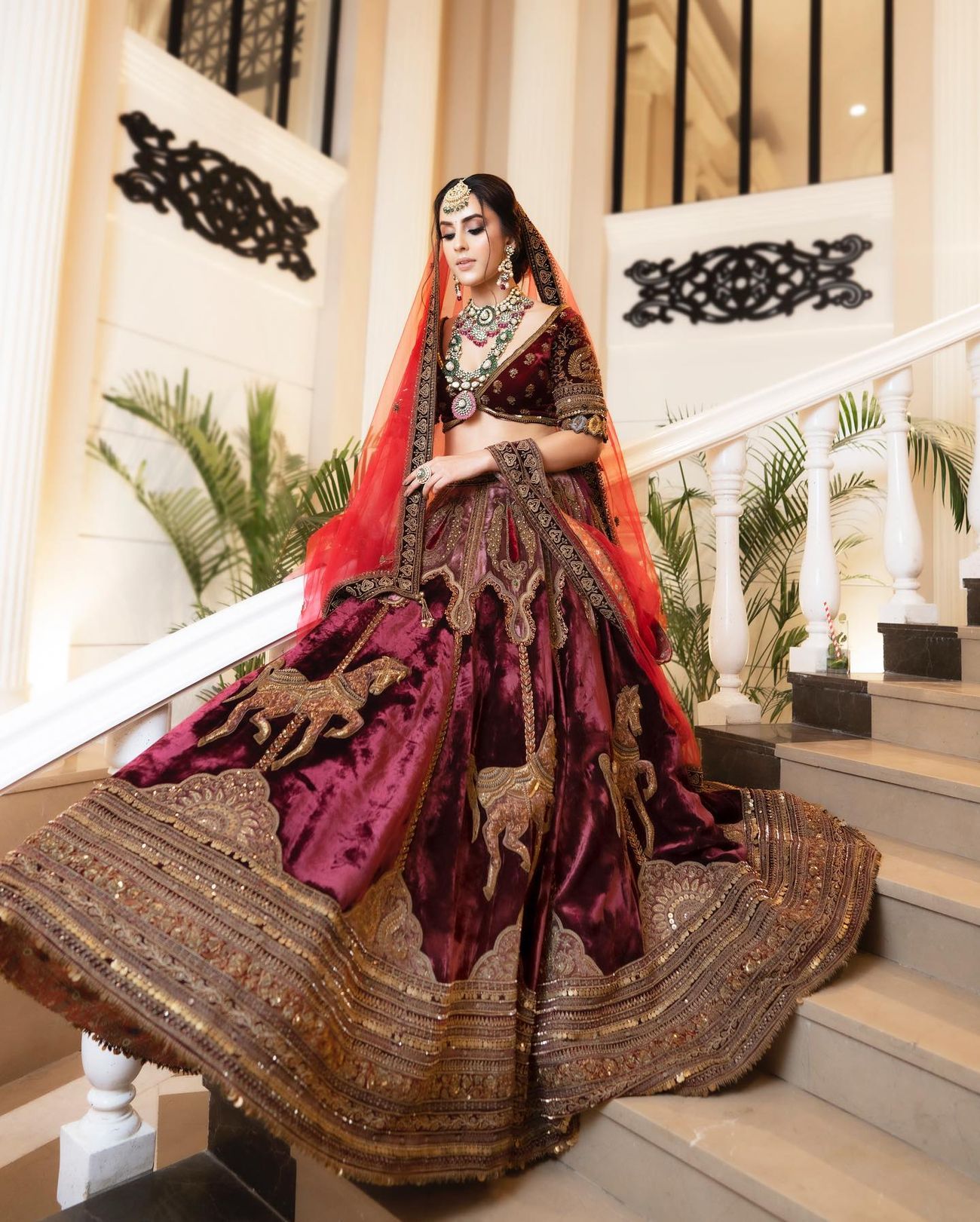 Image via House Of Beauty By Sahil Malhotra ★ 4.4 , Outfit by Marwar Couture
We are here for those jewel tones in her bridal lehenga from Marwar Couture! Who else loves a bold wedding colour palette?
Details, details & details!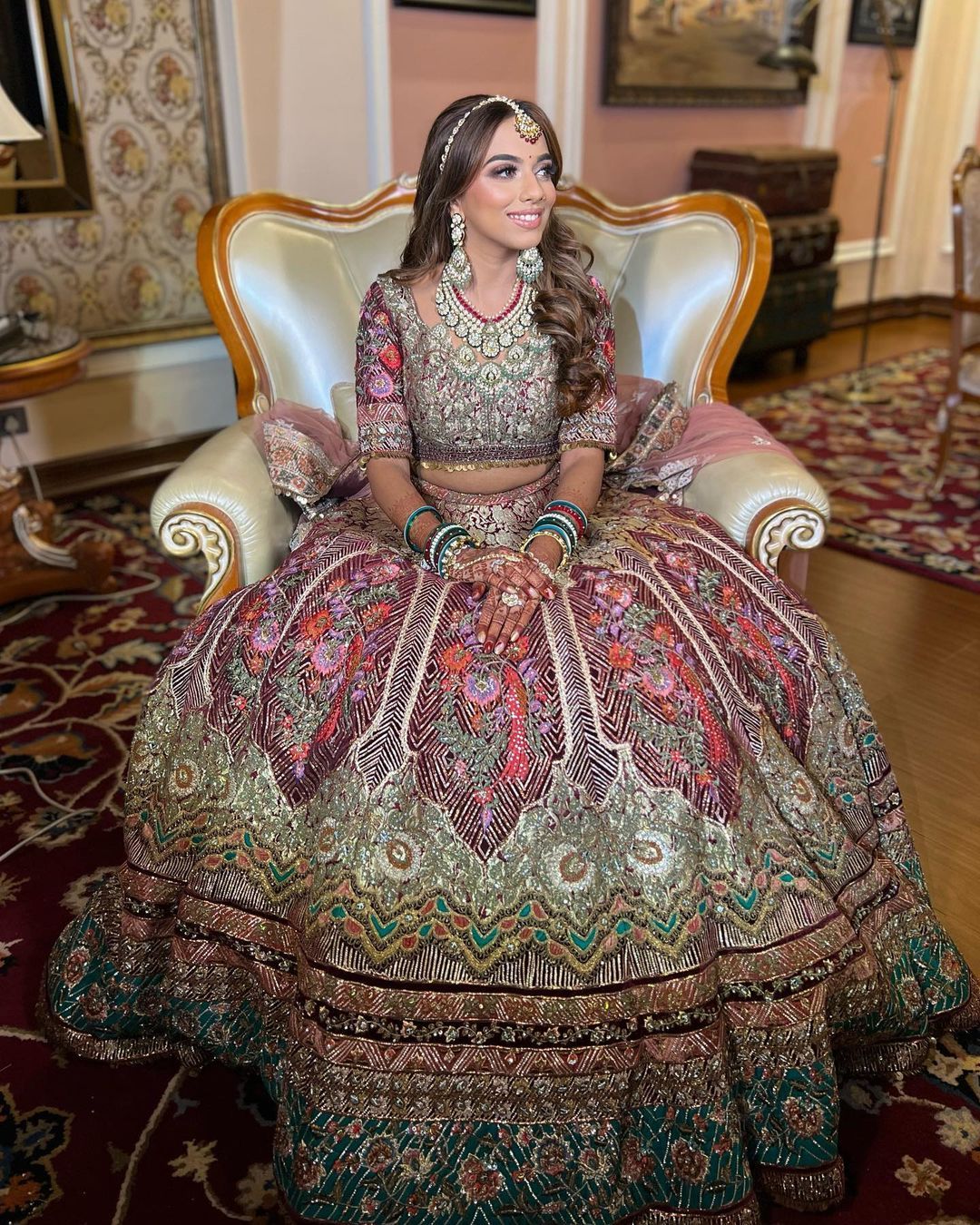 Image via Meraki by Ritika★ 4.6 , Outfit by Marwar Couture
Let this be your sign to go for that earthy-hued lehenga trimmed with striking details and embellishments by
Simplicity at its best!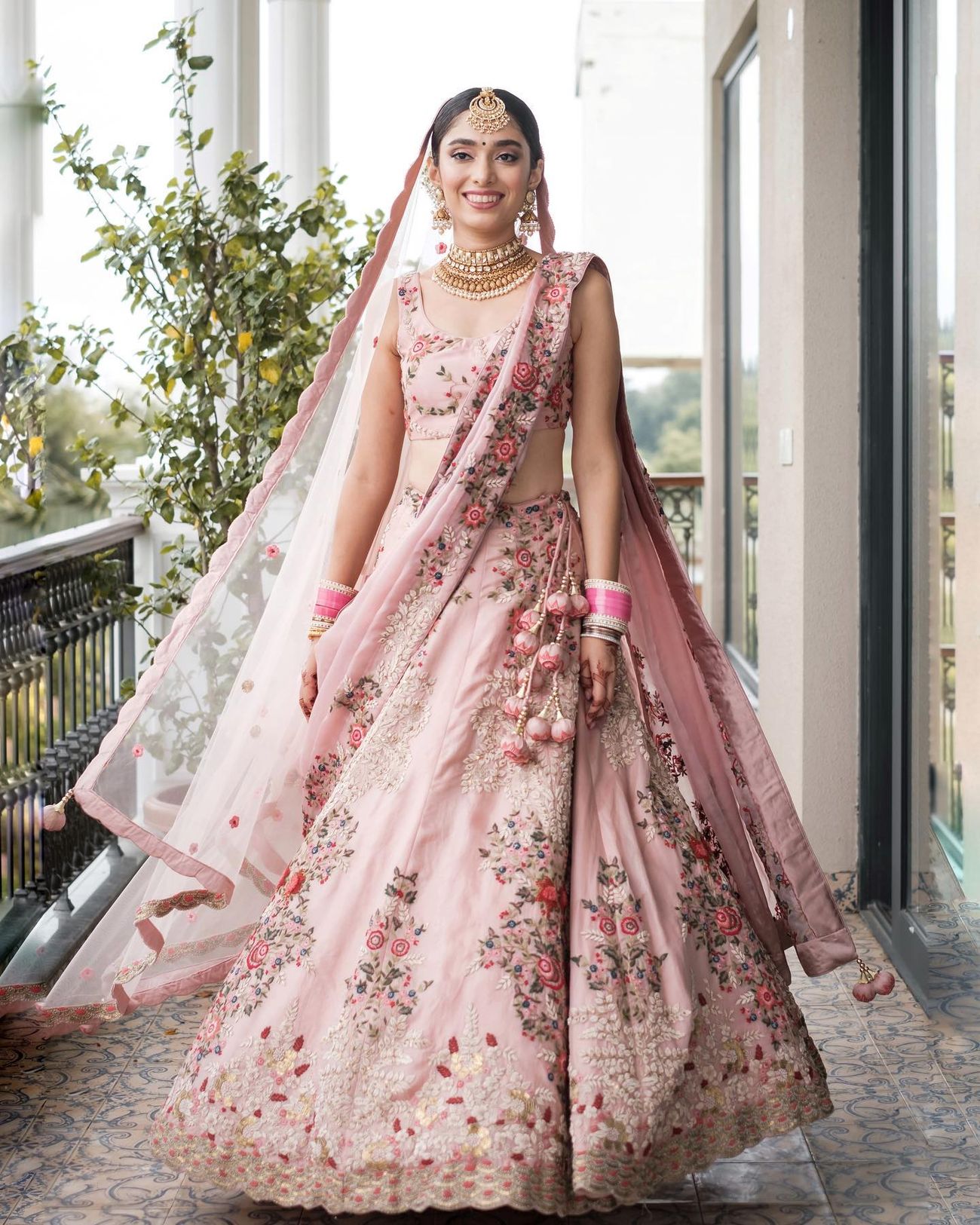 Image via Chitwan, Outfit by Ram Kishan Sarees★ 4.3
This bride's baby pink lehenga from Ram Kishan Sarees is what modern bridal dreams are made of!
How Unique Is This Ochre Yellow And Peach Lehenga?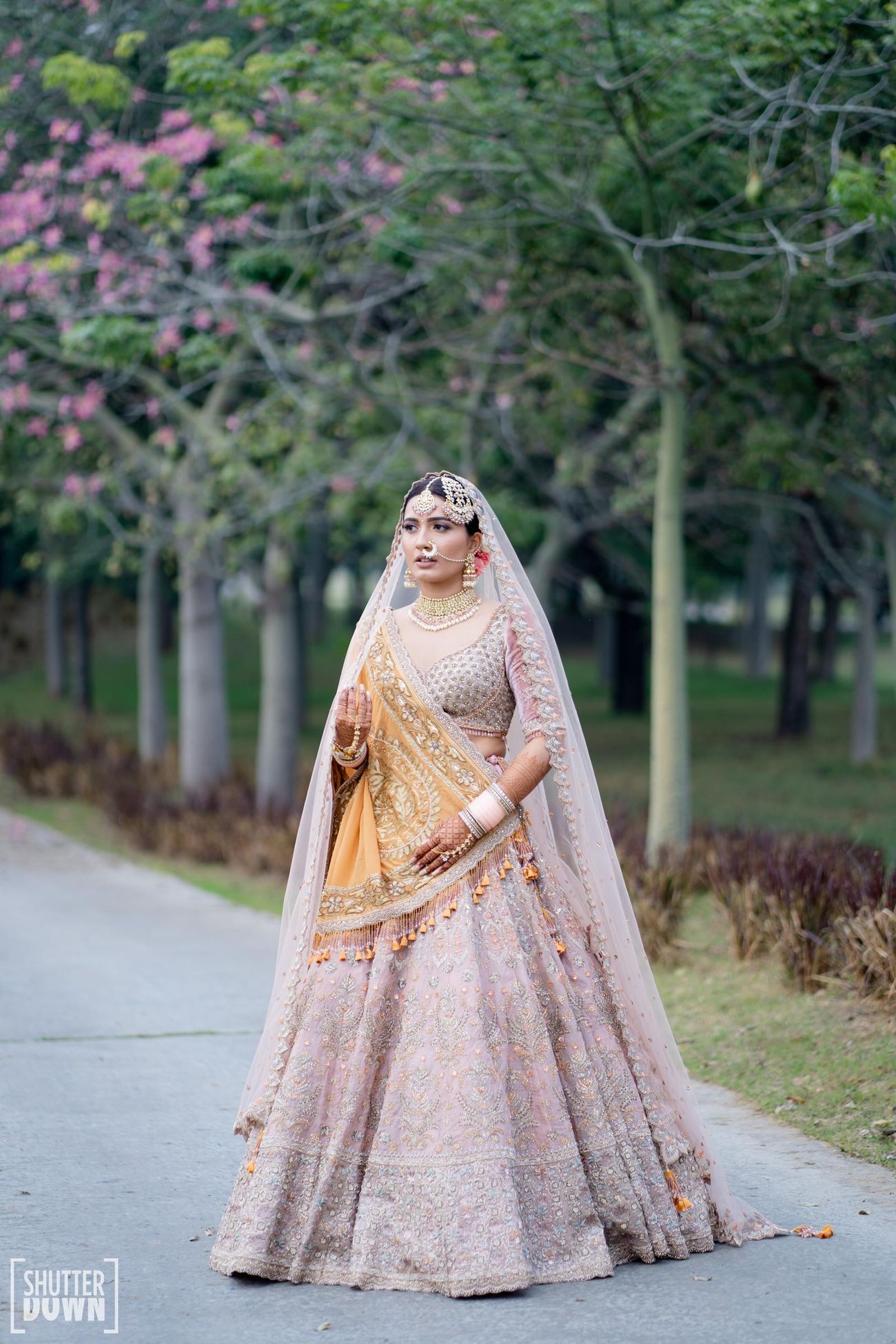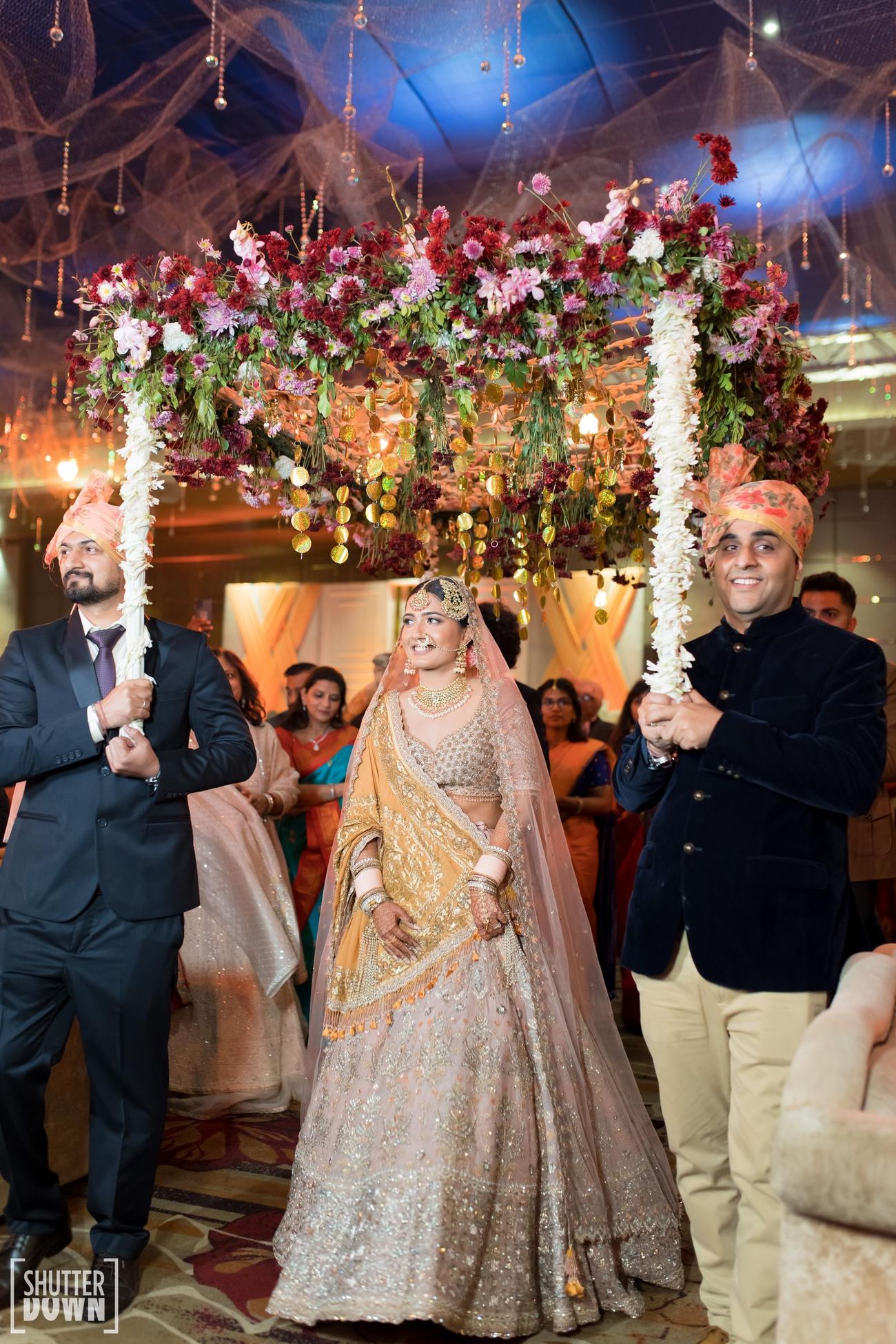 Image via Simran and Keshav and Lehenga via Payal Keyal Design ★ 4.5
Tired of the same old red lehengas? This ochre yellow and peach lehenga is such a great pick!
Totally Loving This Multi-Hued Lehenga!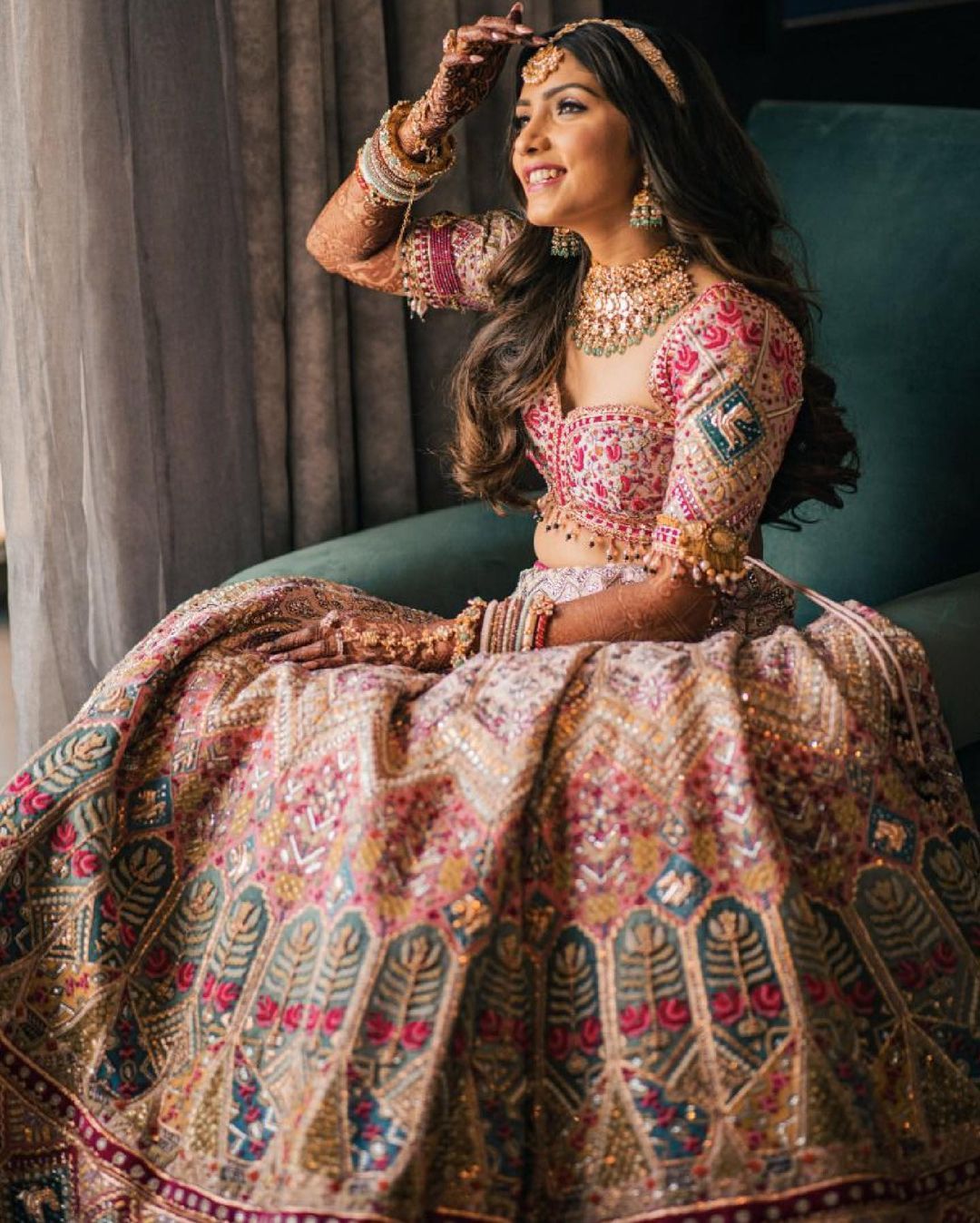 Image via Shrangar Chandni Chowk★ 4.3
That blouse and that lehenga – total winners!
Cannot Go Wrong With A Bridal Red Lehenga On Your Wedding Day!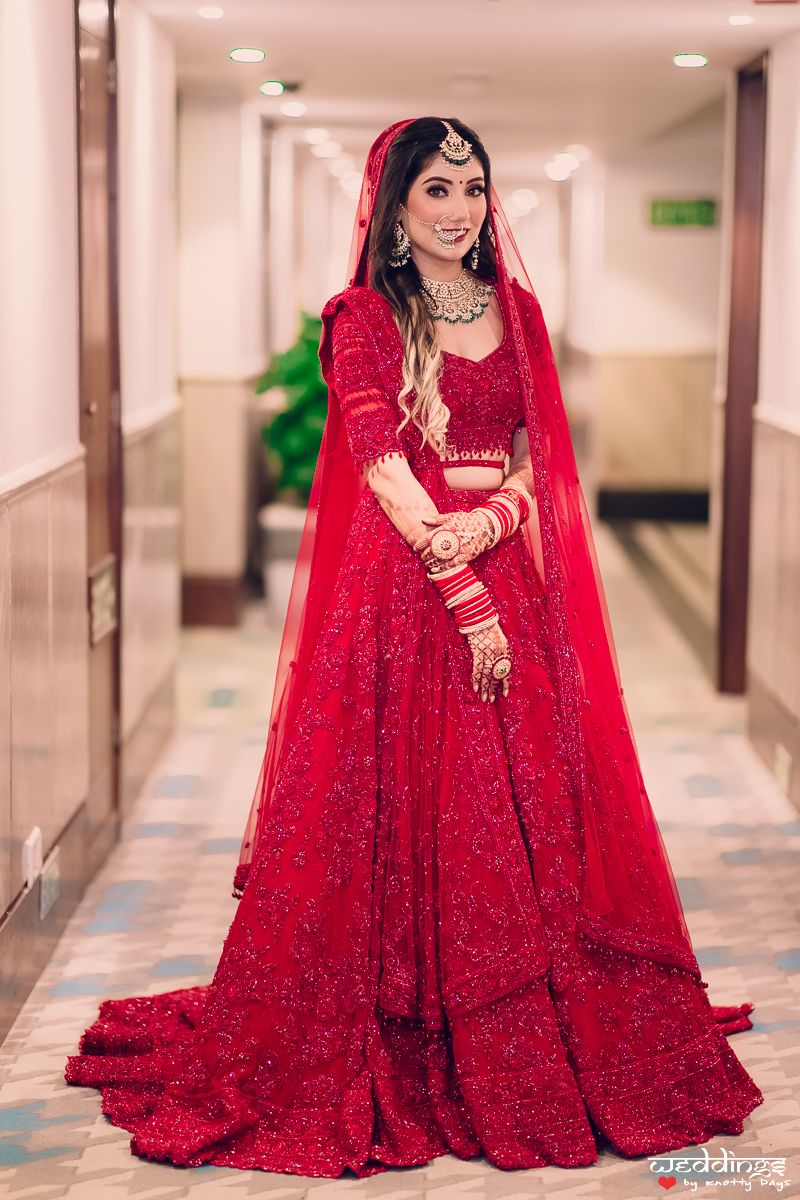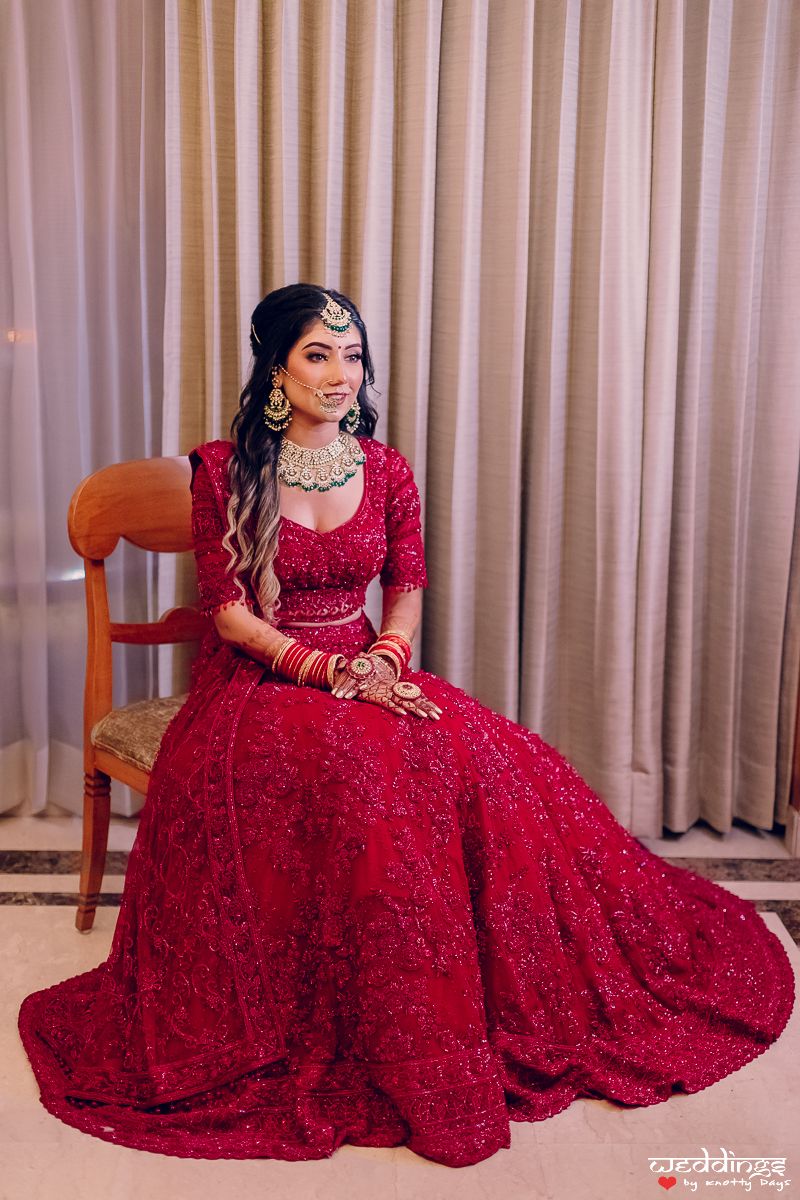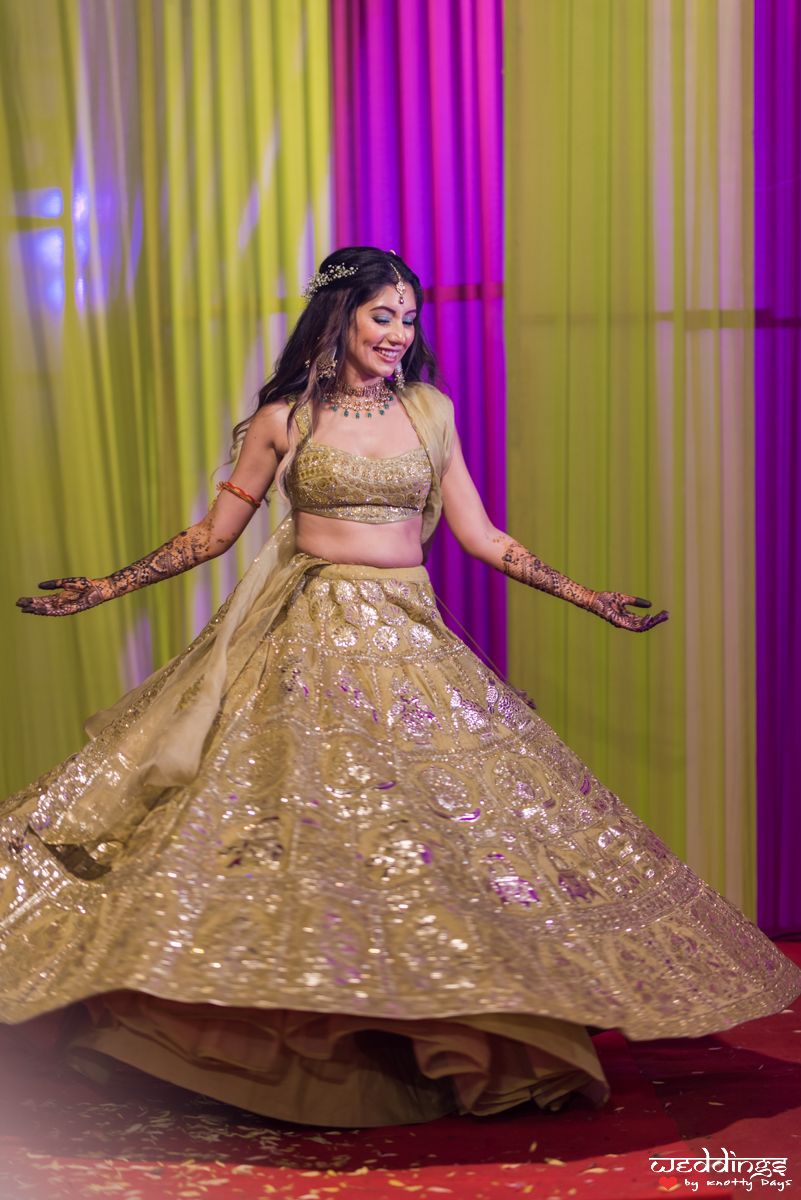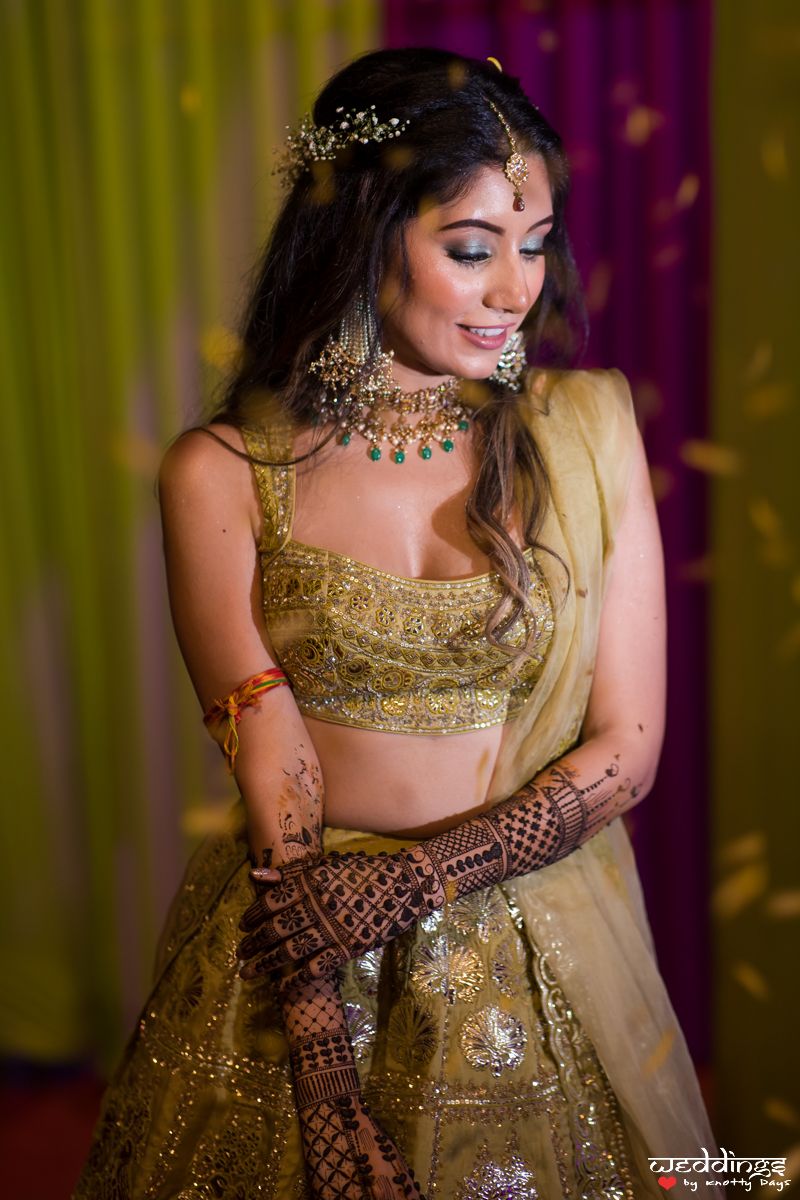 Image via Priya and Samir and Lehenga via Payal Keyal Design ★ 4.5
This bride wore two Chandni chowk lehengas for her events – her wedding as well as her mehendi!
How Gorgeous Is This Subtle Yet Glam Peach Lehenga?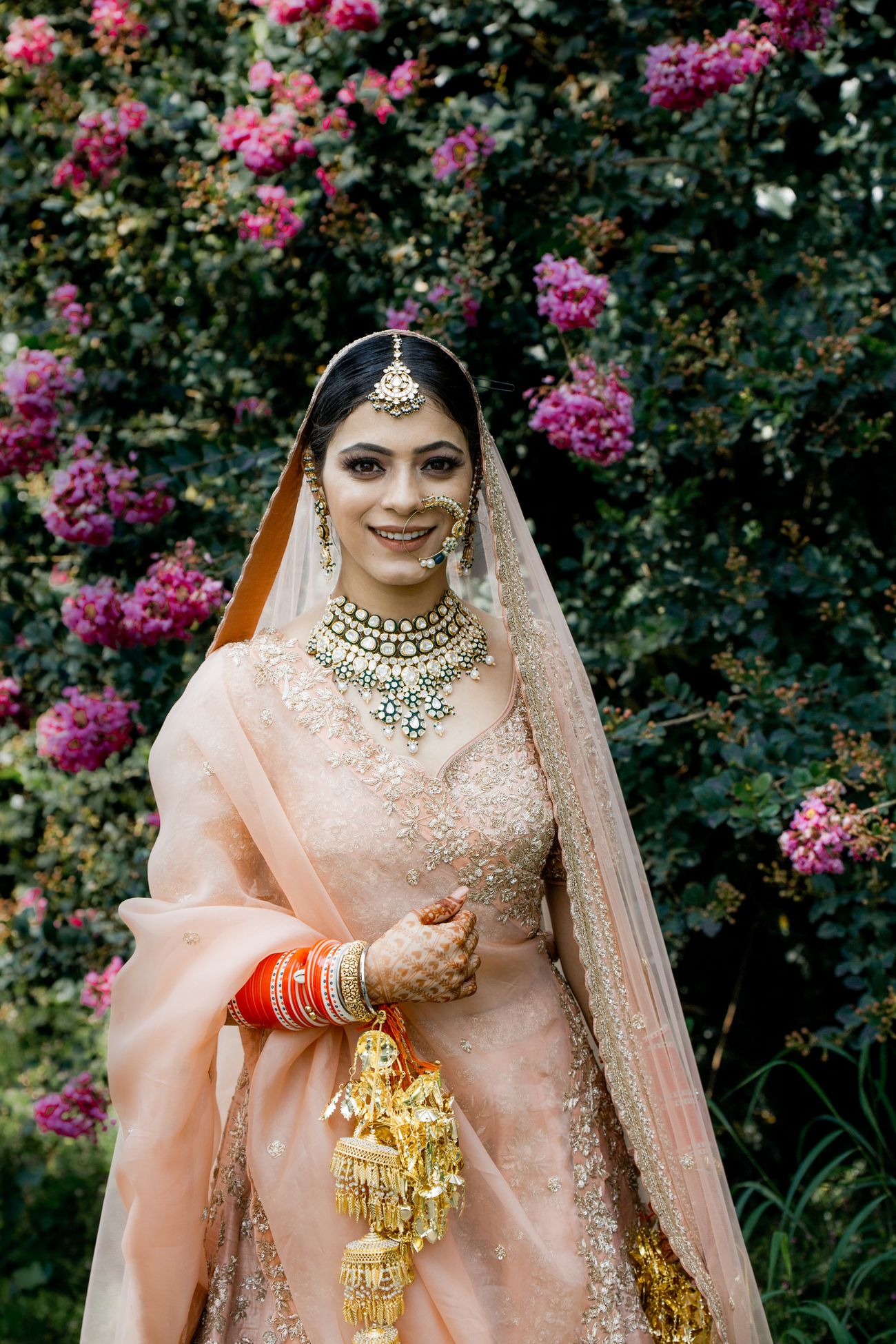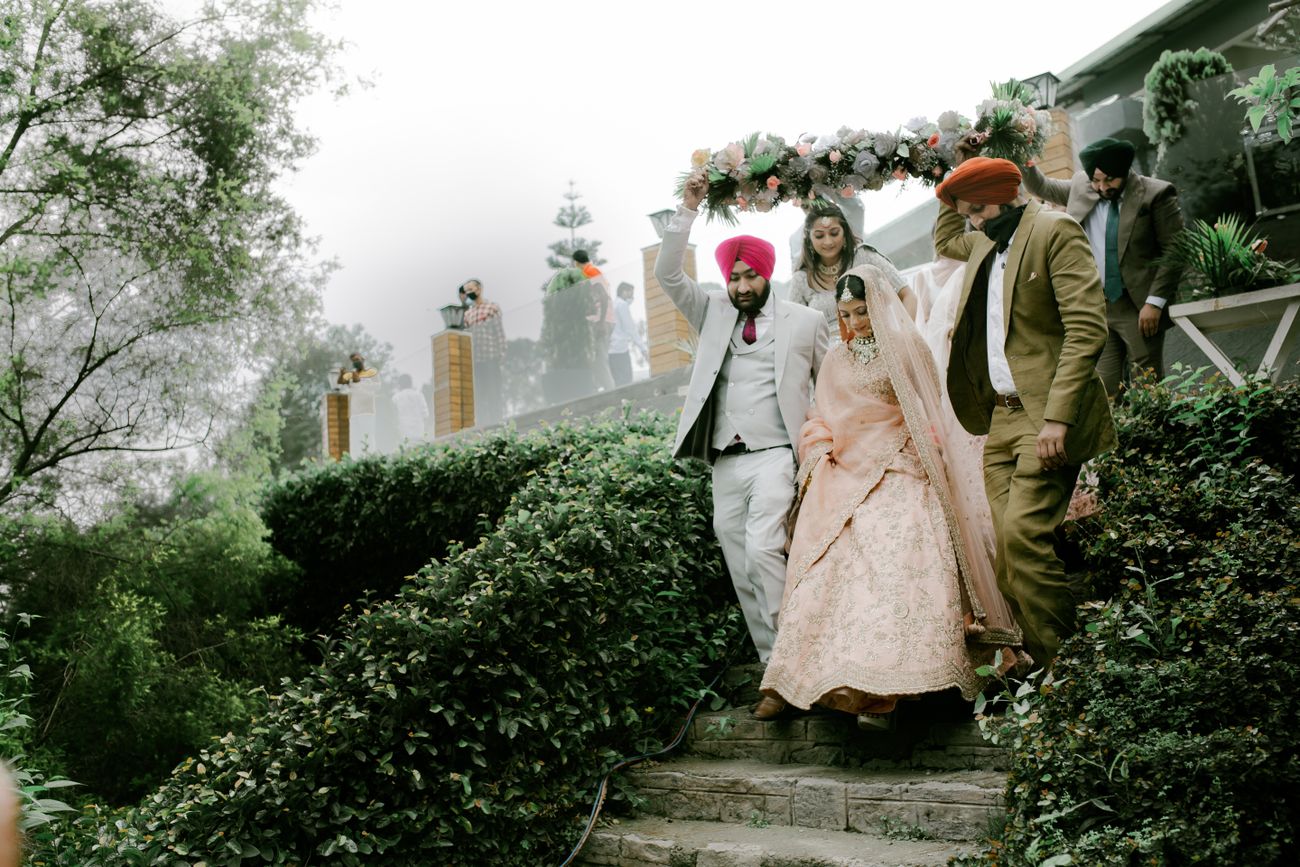 Image via Inderdeep and Kartikeya and Lehenga via Om Parkash Jawahar Lal -Bridal Wear★ 4.1
Love the minimal vibe? Take a cue from this bride's stunning peach lehenga!
We Cannot Get Over How Beautiful This Turkish Rose Pink Lehenga Is!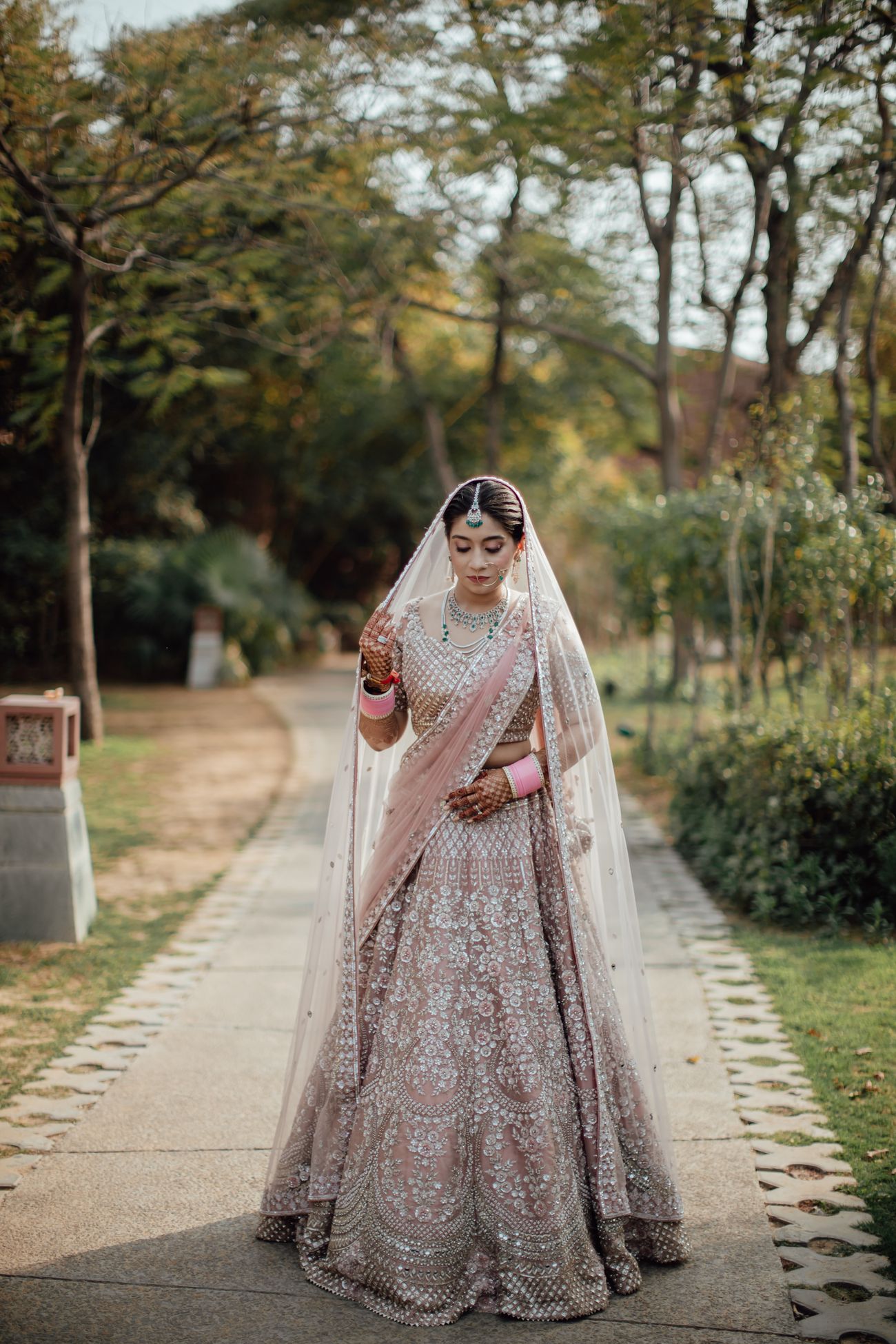 Image via Nikhita and Pulkit and Lehenga via Sunehree Chandni Chowk★ 4.8
A very unique shade of pink, this lehenga has our heart!
Bring In Some Bling With This Multi-Coloured Beauty!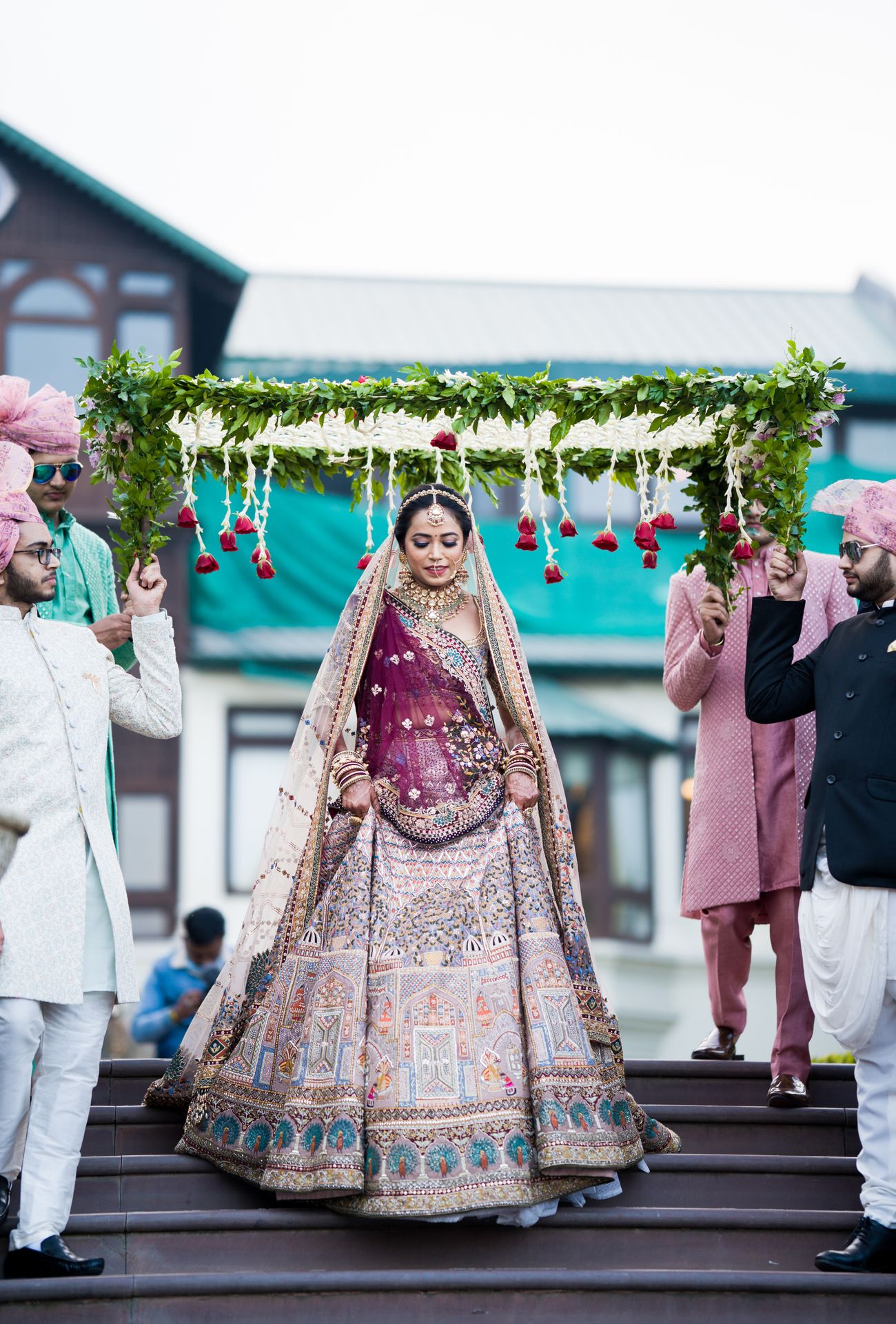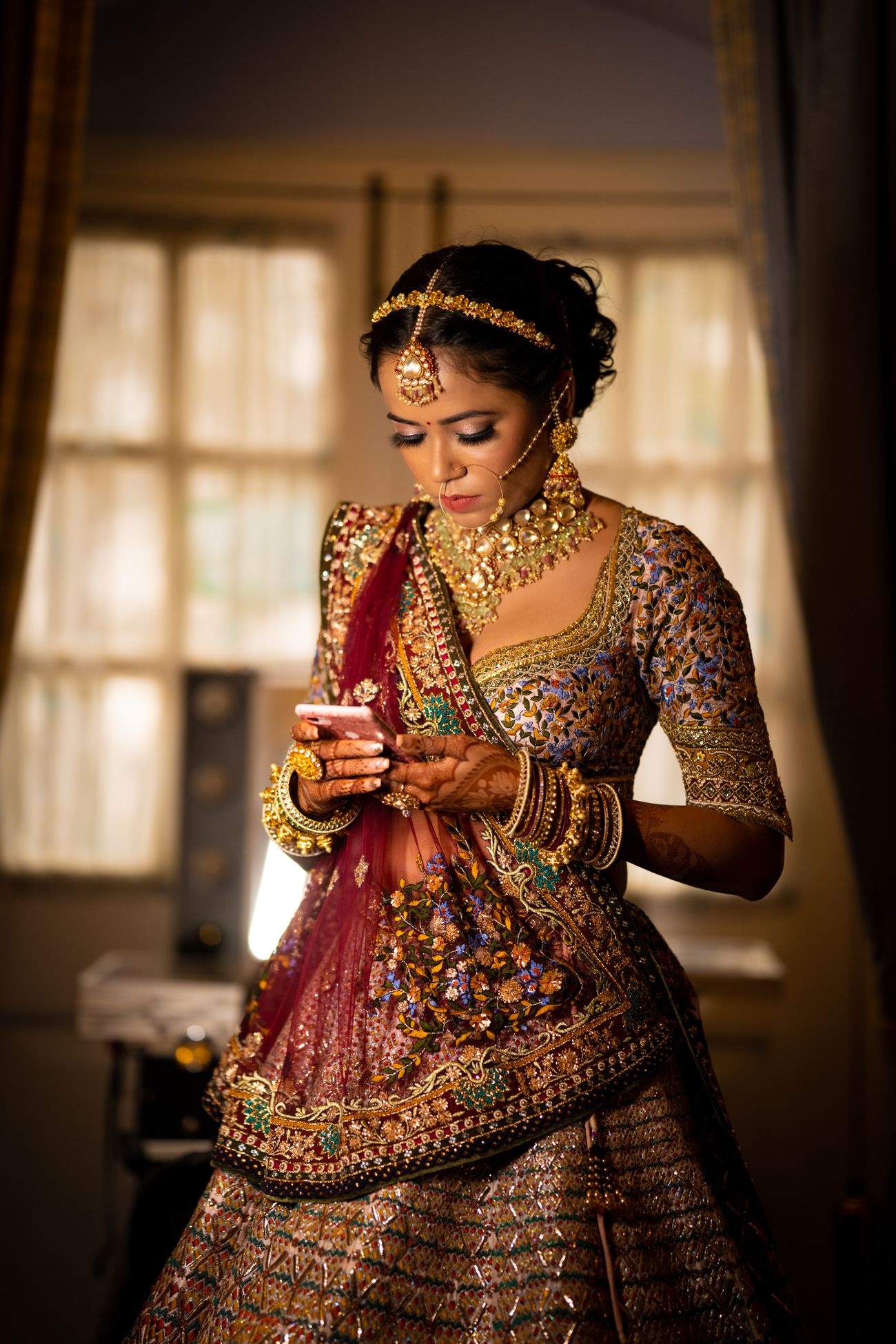 Image via Megha and Mehul and Lehenga via Shrangar Chandni Chowk★ 4.3
A mix of beautiful colours, stunning work – legit goals!
So planning to go shopping at Chandni Chowk on your next trip to Delhi? Check out 15 Places To Buy Bridal Lehengas In Chandni Chowk: Prices, Pics & More.