Jaw-Dropping Engagement Hairstyles That We Are Crushing On!
Your engagement hairstyle is all about having fun. It's the first event in the wedding runup where you can go a little away from the traditional bridal look and glam it up. This is why, we decided to show you some fun engagement hairstyles that we spotted recently and absolutely loved. From intricate updos that weave together artistry and romance to cascading waves that exude ethereal beauty, these hairstyles are sure to be on your bookmark list. Happy hairstyling!
A Crown For The Queen!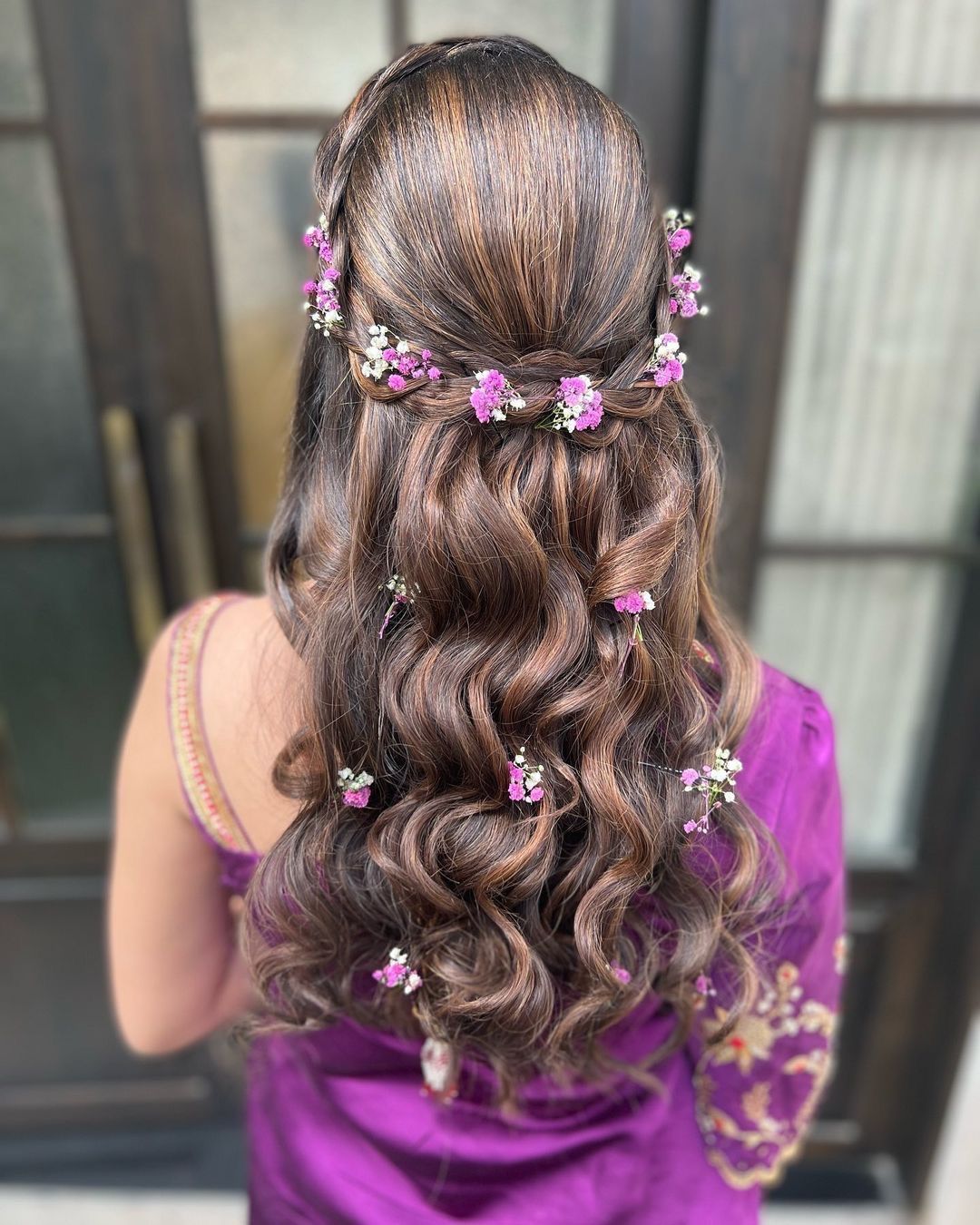 Loving this floral crown at the back, instead of front of head, allowing you to create a whole jasmine-meets-barbie look!
Gorgeous Thick Floral Braid That We Loved!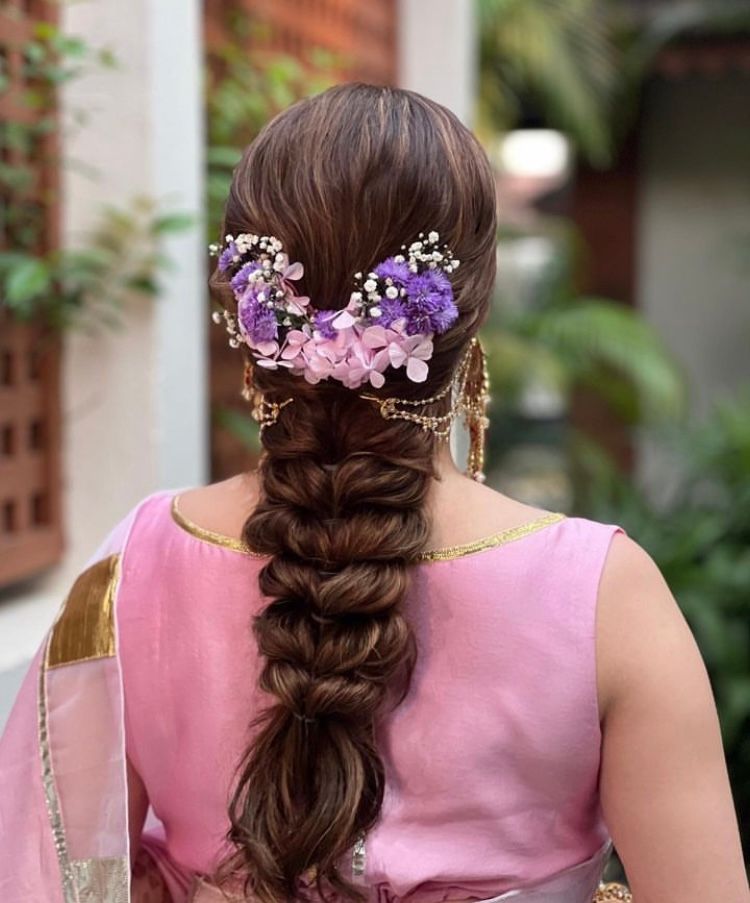 Image via Doll You Up By S
If you want to step away from open hair or buns for your engagement, this thick style floral braid is the one to say yes to!
Loving Us Some Princess Waves In Lavender Hues!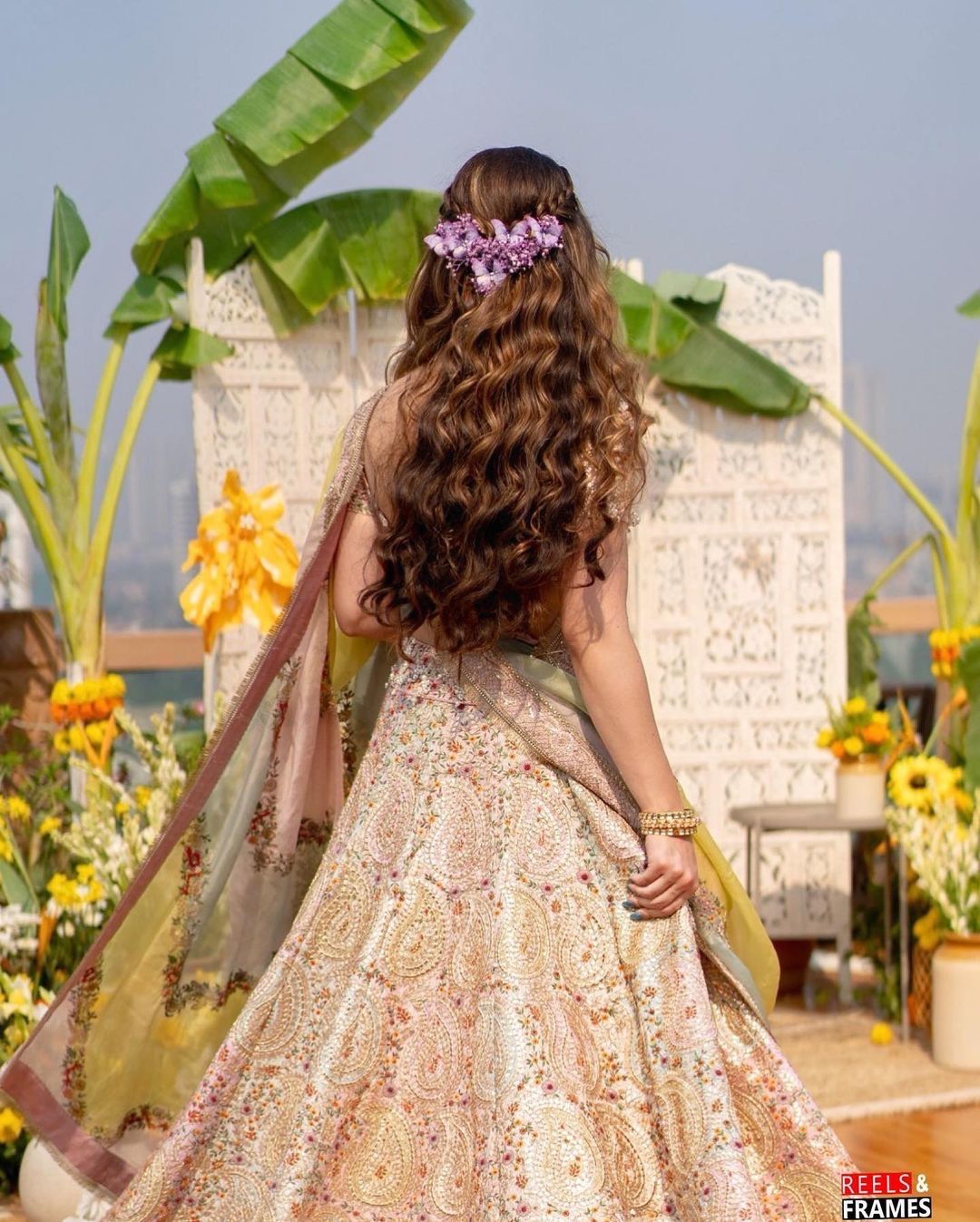 Image via Reelsandframes★ 5
This lovely princess-waves hairstyle is perfect for long haired brides who want something beautiful with a touch of floral.
Curly Hair Love!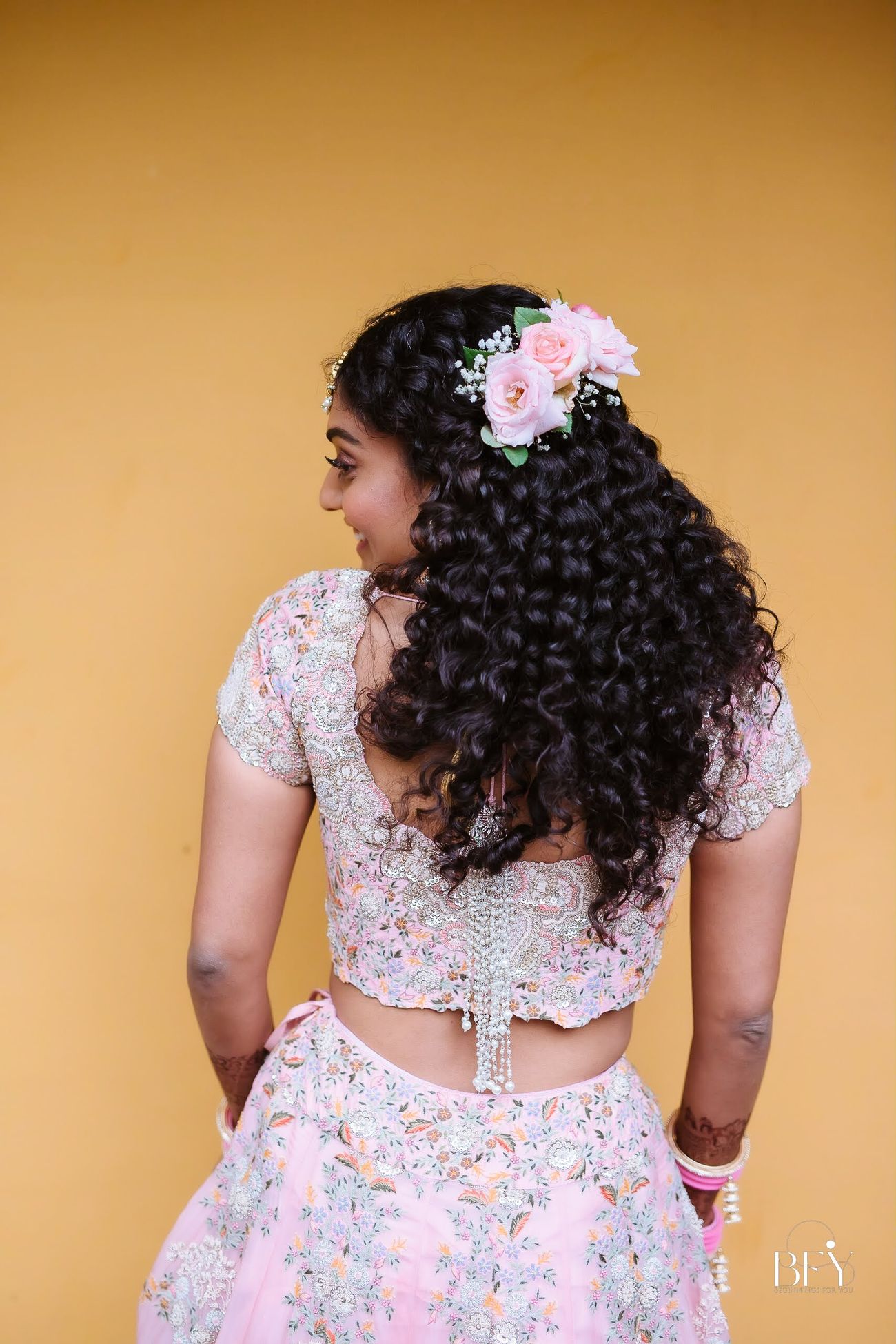 For all our curly-hair brides who don't want to straighten out their hair, just want to keep it natural, this hairdo is your go-to. Its perfect for an engagement soiree, with these gorgeous blooms!
Minimal Bejewelled Braids!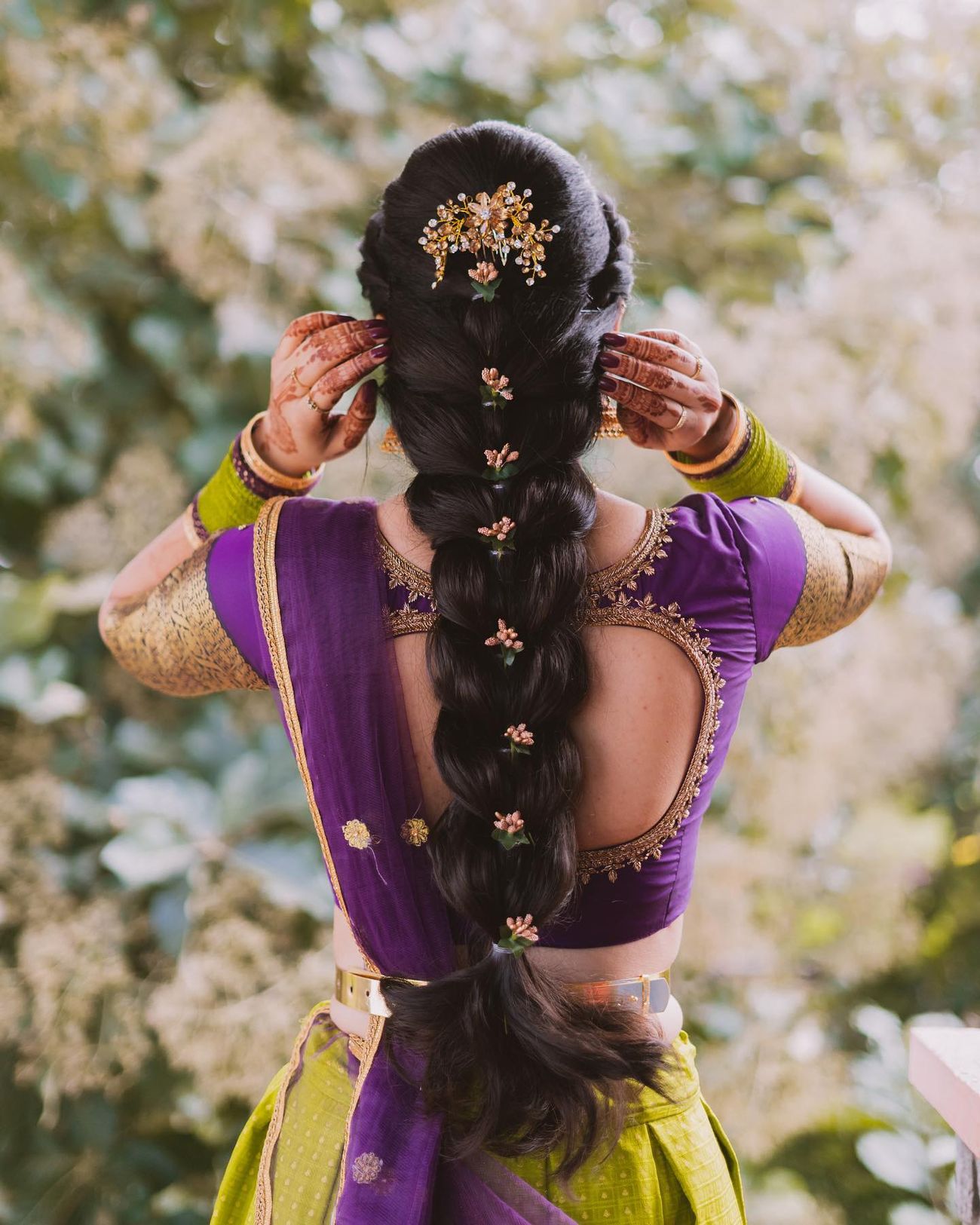 Image via Picture Plantations
What we loved about this hairdo is that you can easily pair it with a traditional look or even a modern lehenga look without a lot of change, especially for brides who want to keep it minimal.
Sleek Hair, Don't Care!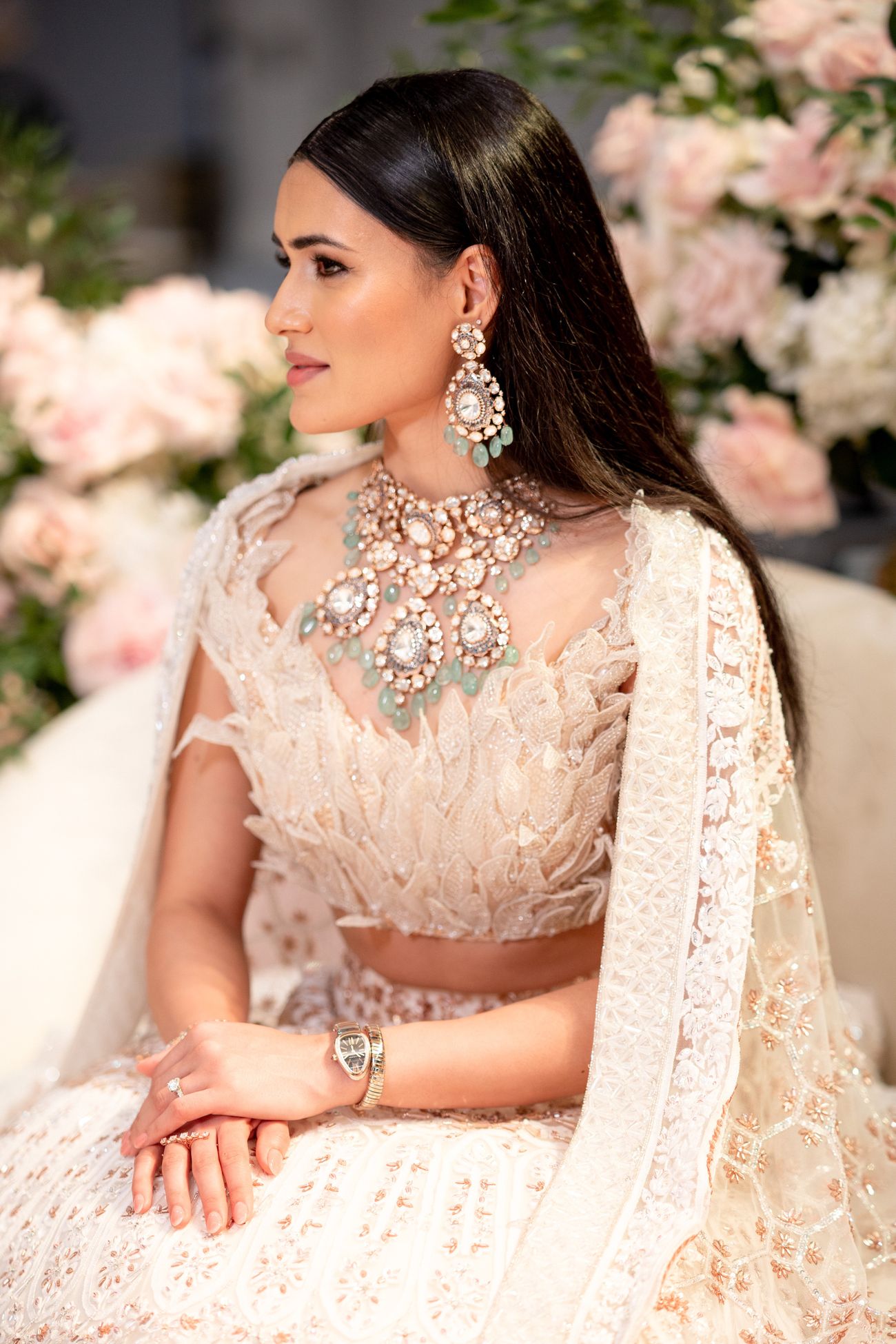 Image via Pearl and Milan's Engagement
This one is a total winner. Sleek hair with no flowers or jewels that creates a statement like no other!
Royalty Personified!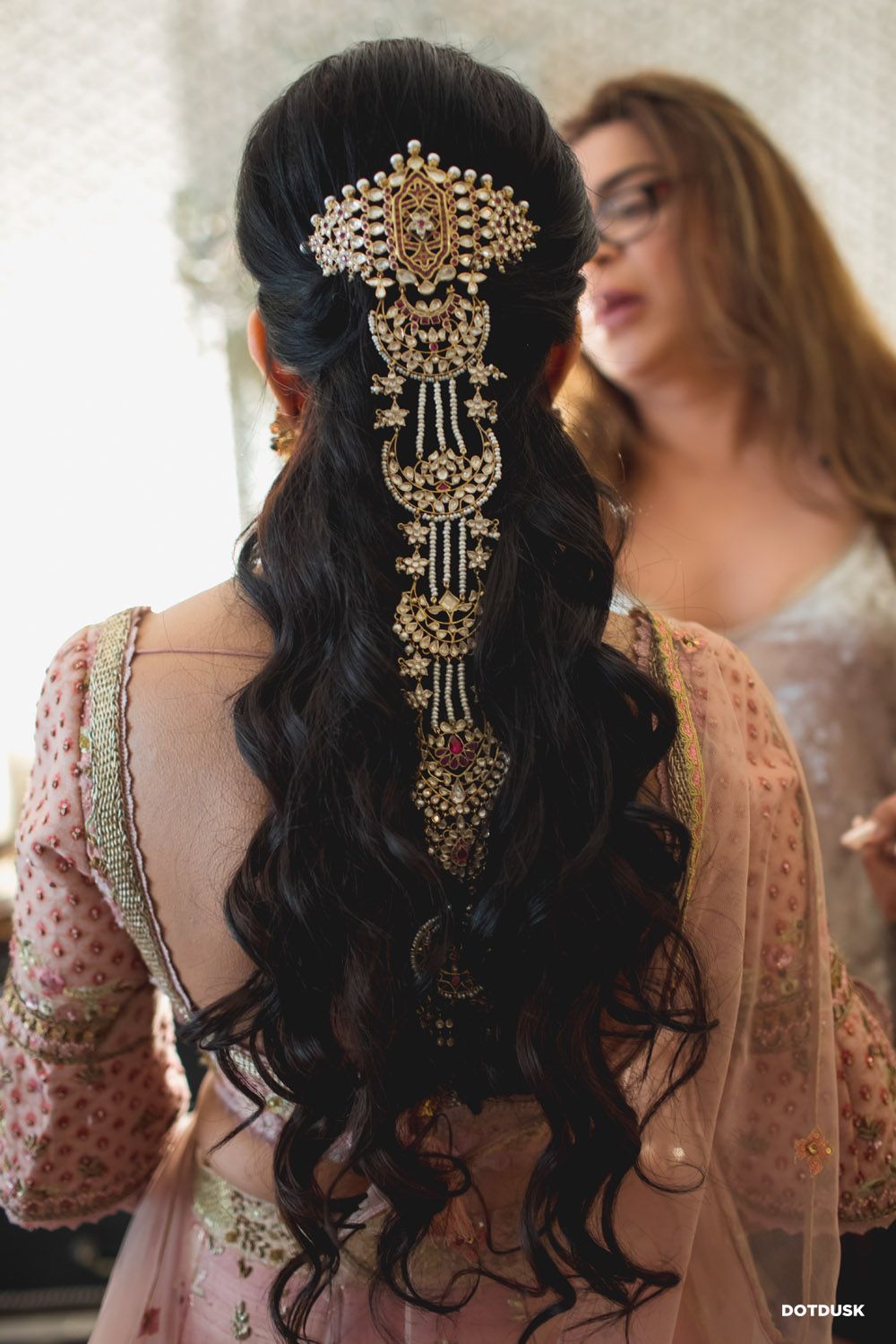 Image via Drishti & Deepak
For brides who love their jewels, you can add them to your engagement hairstyle too. This one is royalty personified in adding this stunning hair jewellery to her braid!
Diamonds Are Forever!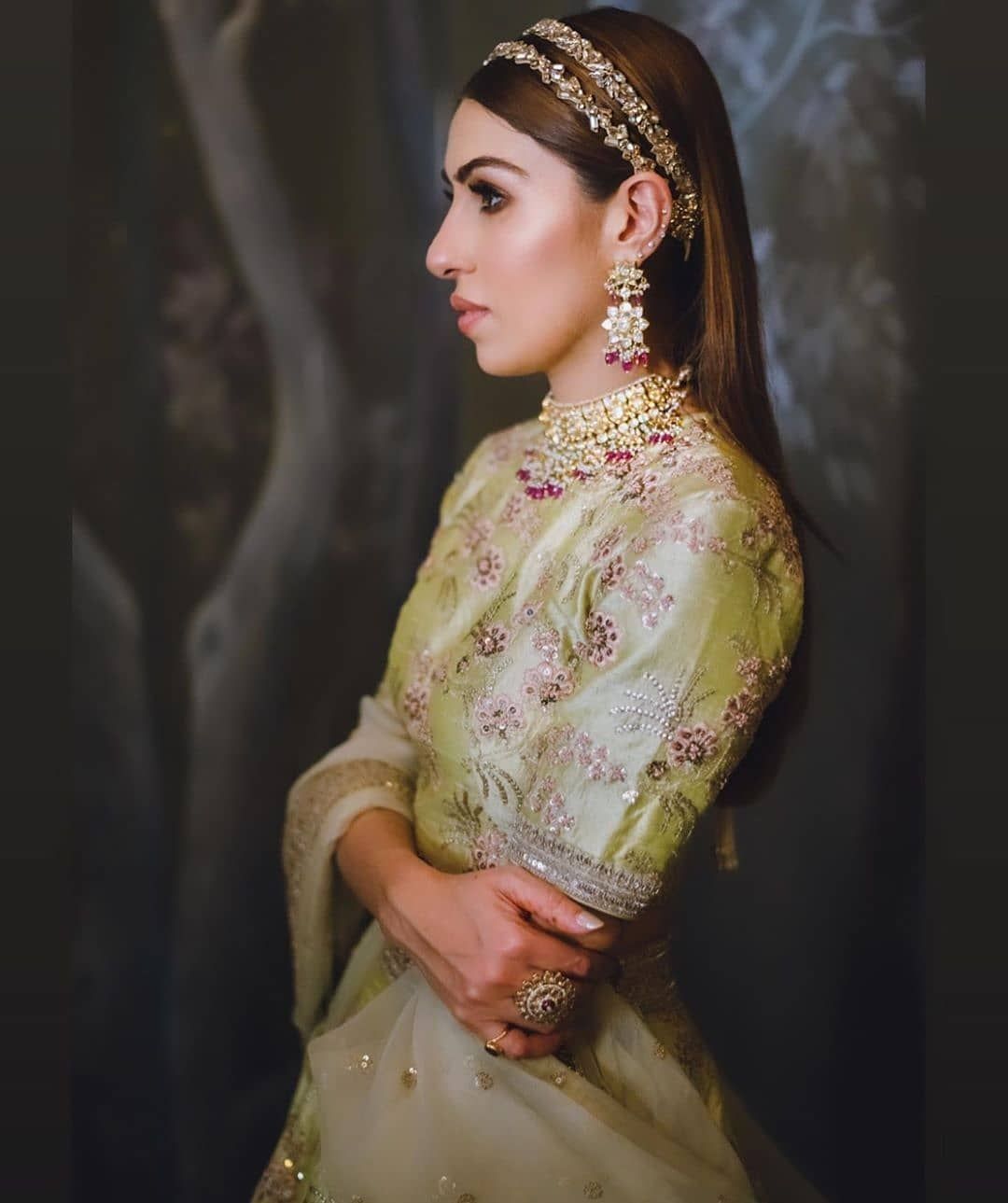 Image via Recall Pictures★ 3.5
If you don't want to go the whole jewellery-meets-hairstyle way and yet have some sparkle in your engagement hair, take a leaf out of this bride's book and add a diamond hairband to your look!
Floral Wonderland!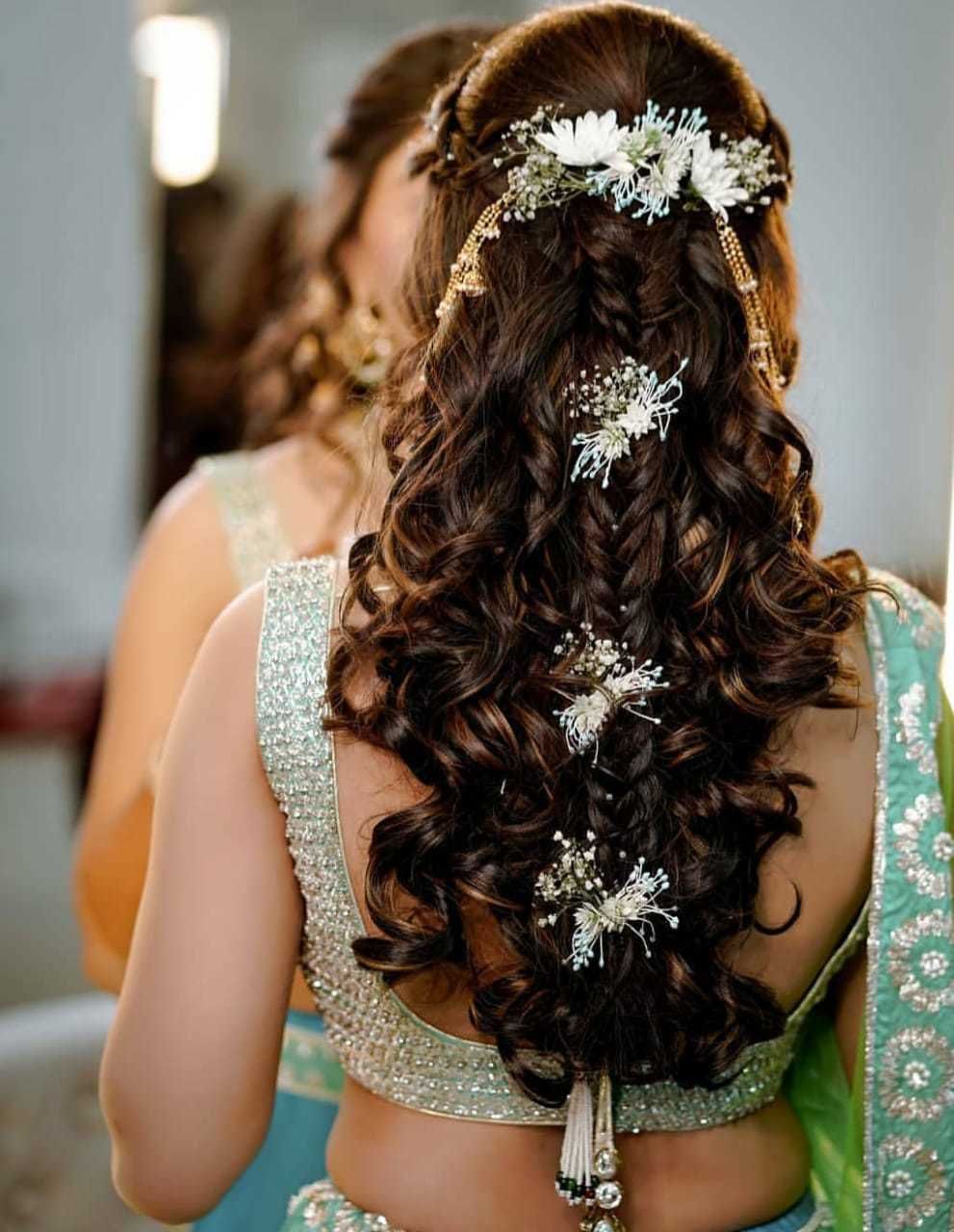 Image via Shikha Davids Makeup Studio & Grooming Academy★ 5
Love a little bit of everything? This engagement hairstyle is the way to go. It's a half up and down hairdo with a braid in the centre with flowers!
Minimal & Sleek!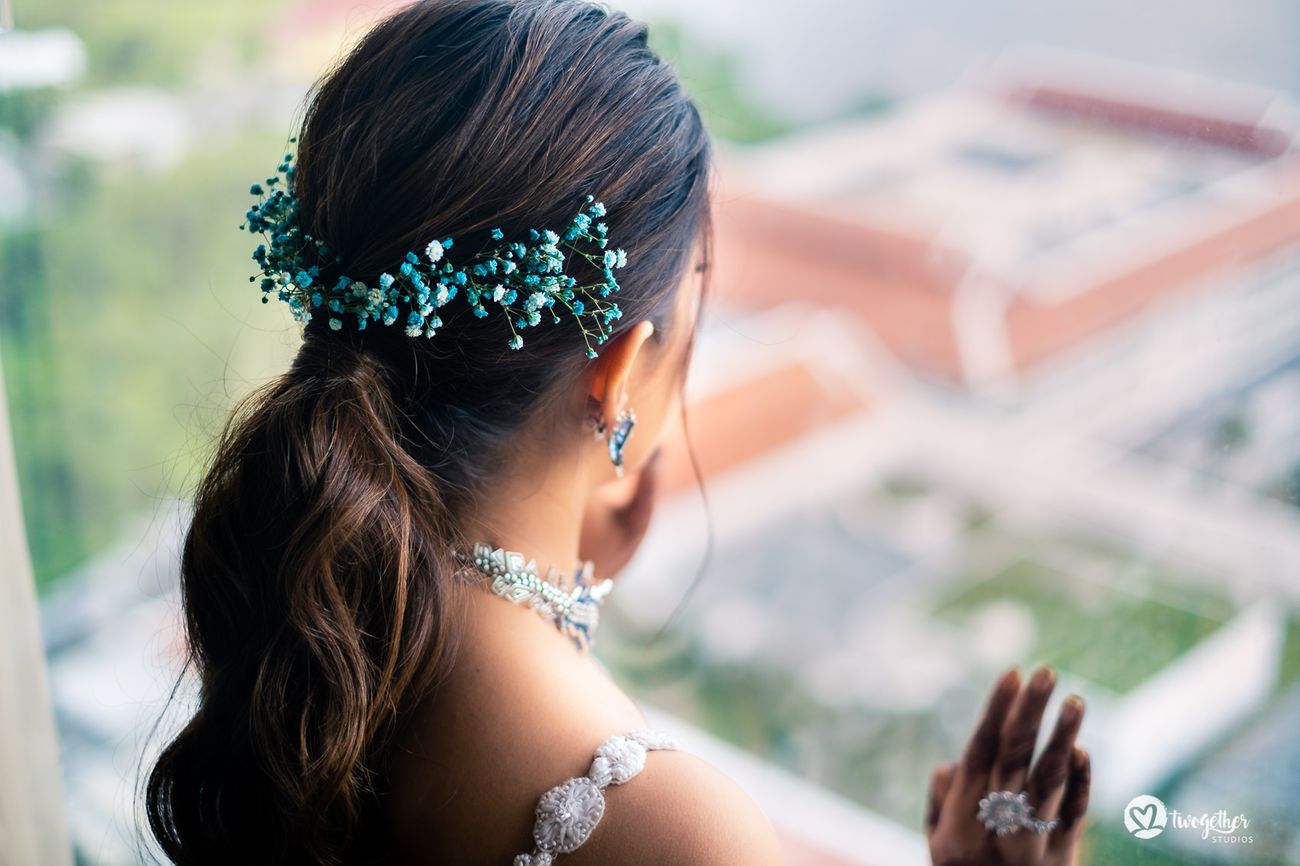 Image via Trisha and Rahul
For brides who want to keep it subtle yet pretty, this low pony hairstyle with coloured baby breath is so refreshing.
Boho Vibes!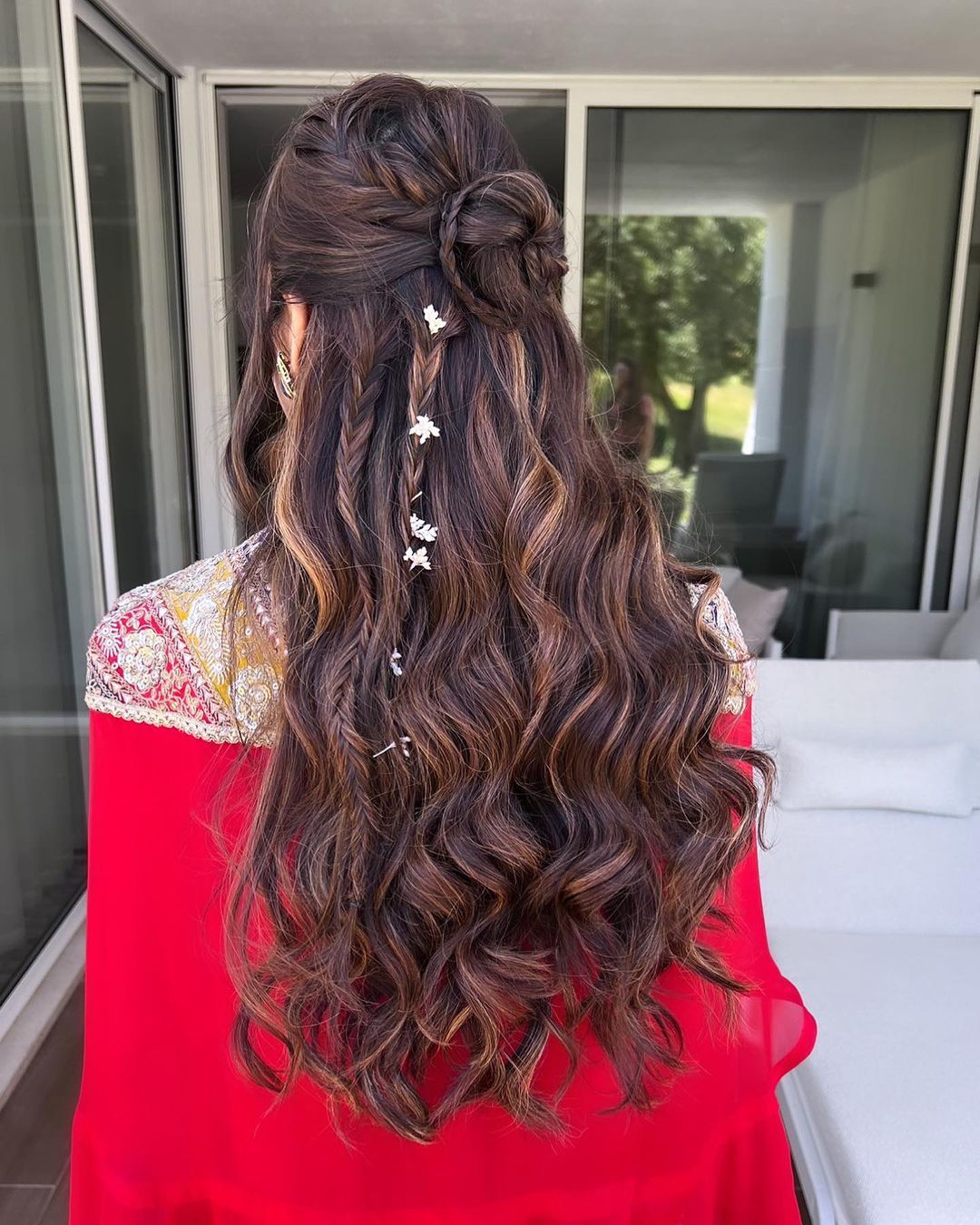 Image via Ritika Kadam★ 5
Giving us complete boho vibes with this lovely bun-meets-braid-meets-open-hair hairstyle!
Bun With A Twist!
Want a bun but don't want that typical traditional wedding bun? This is a modern bun with no florals is a perfect take on a indo-western bun!
Classic Soft Waves!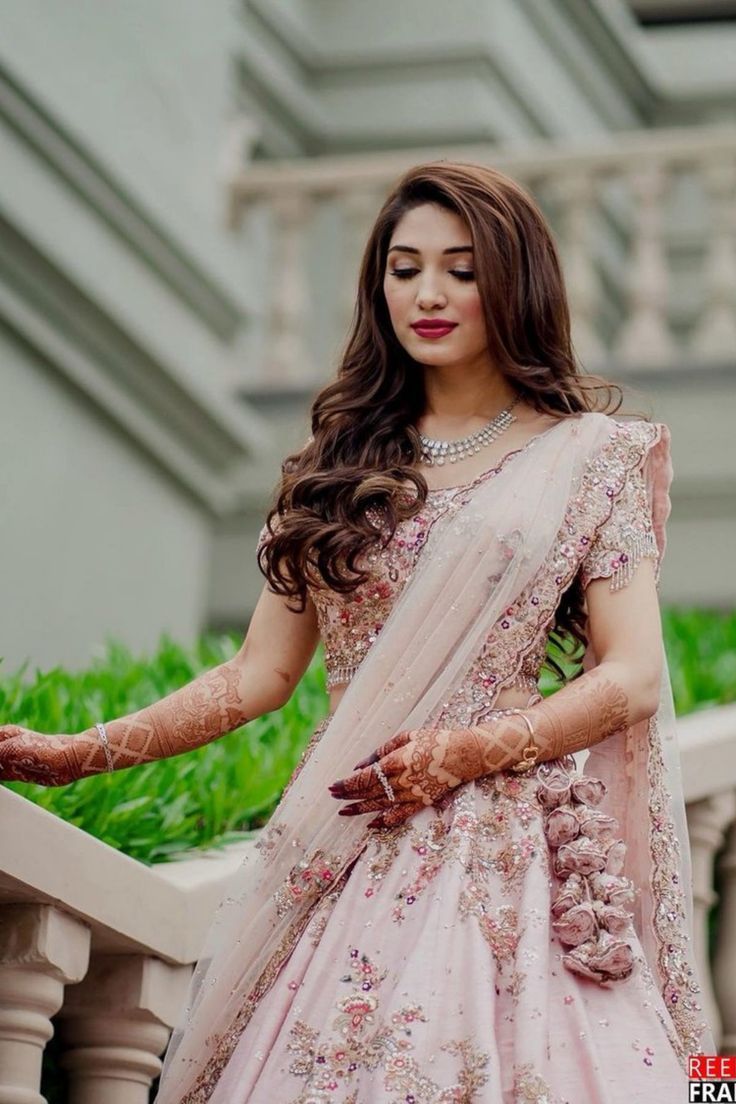 Image via Reelsandframes★ 5
You cannot go wrong with classic soft waves for your engagement soiree. Whether you are wearing a gown or a lehenga or a saree, it matches all!
Mirror Magic!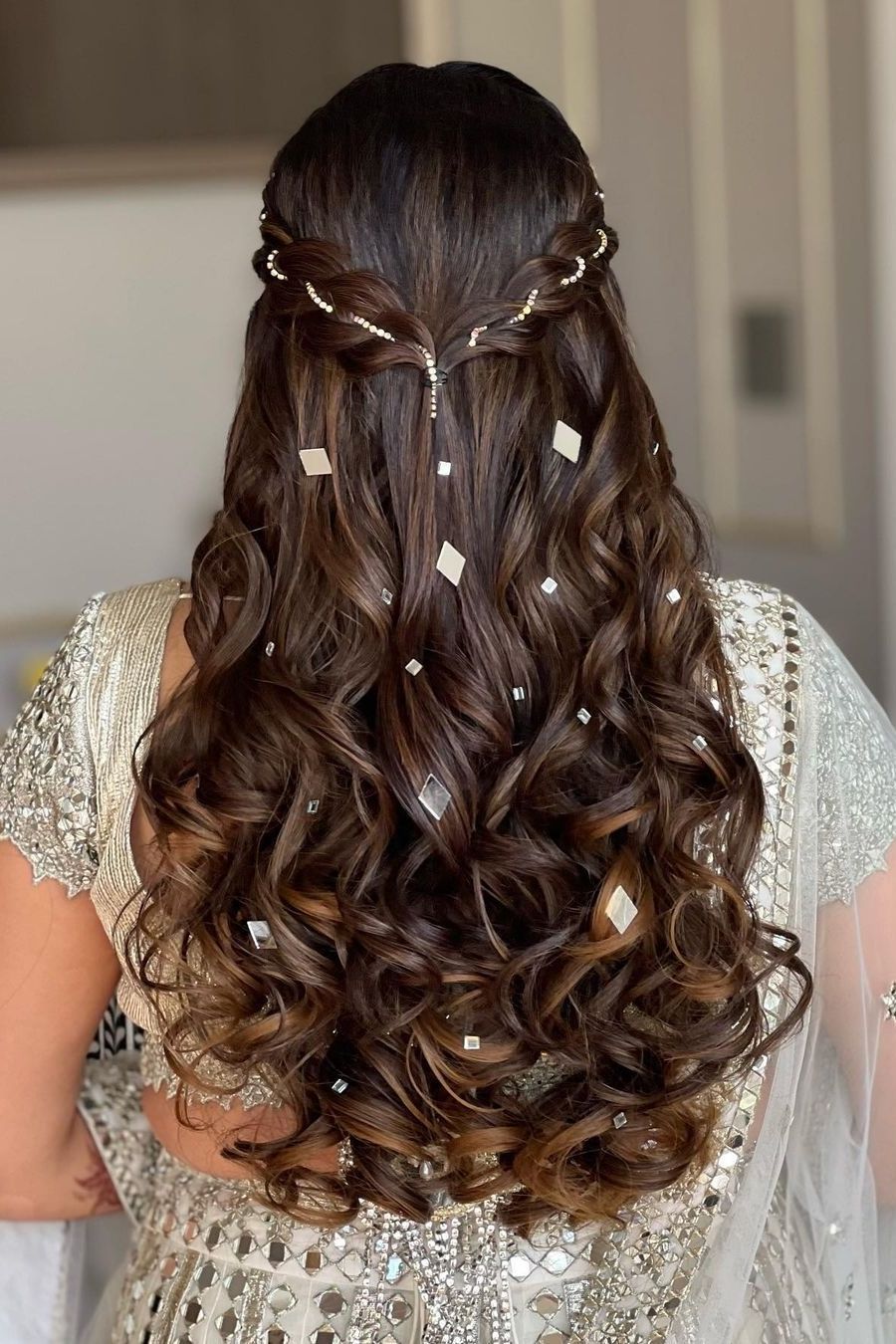 Image via Pinterest
Add a little sparkle to your look with these mini mirrors in your engagement hairdo!
Open Hair Goals!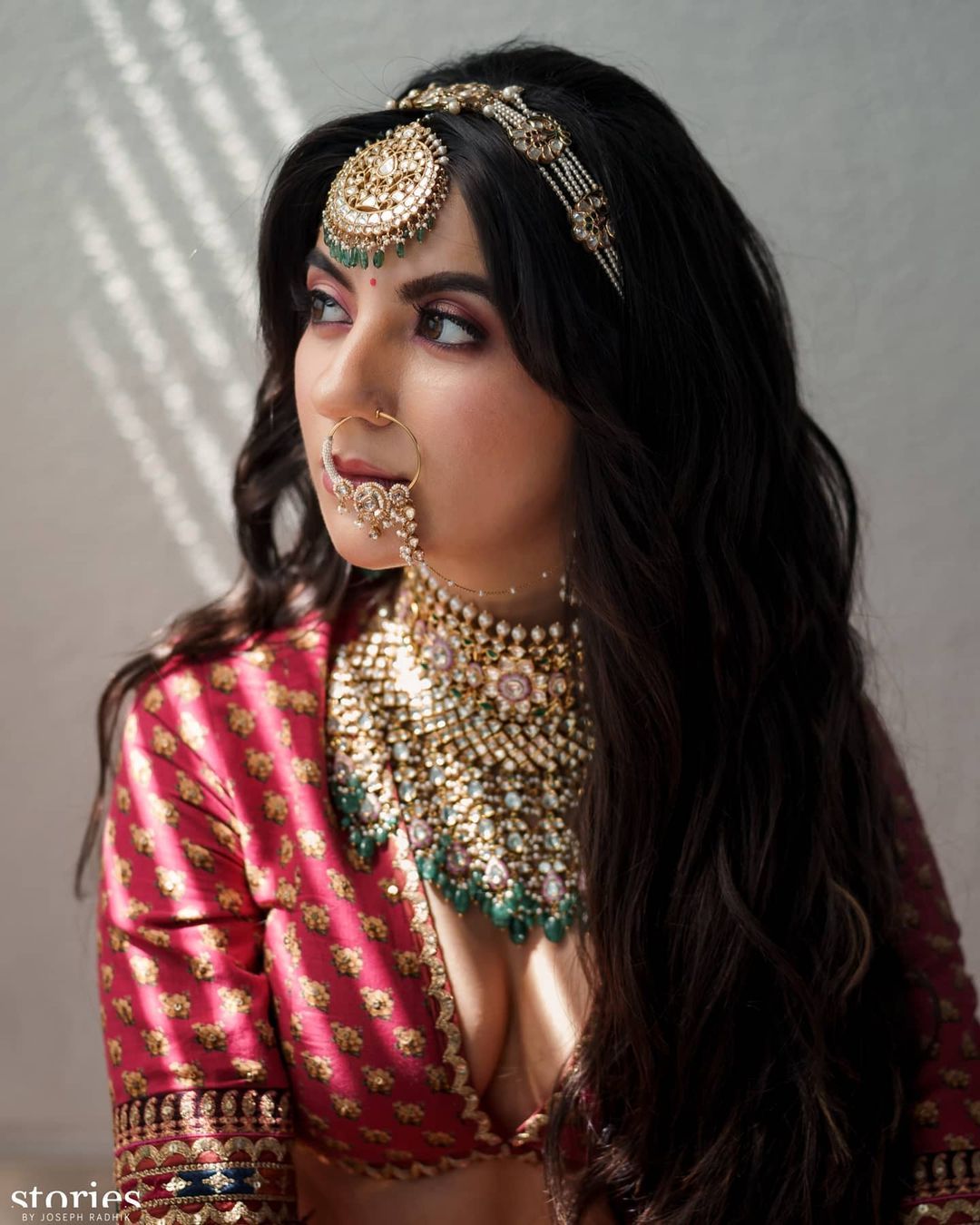 Image via @fashioneiress
A little bit of everything – jewels, open hair and classic curls!
Add A Bow To It!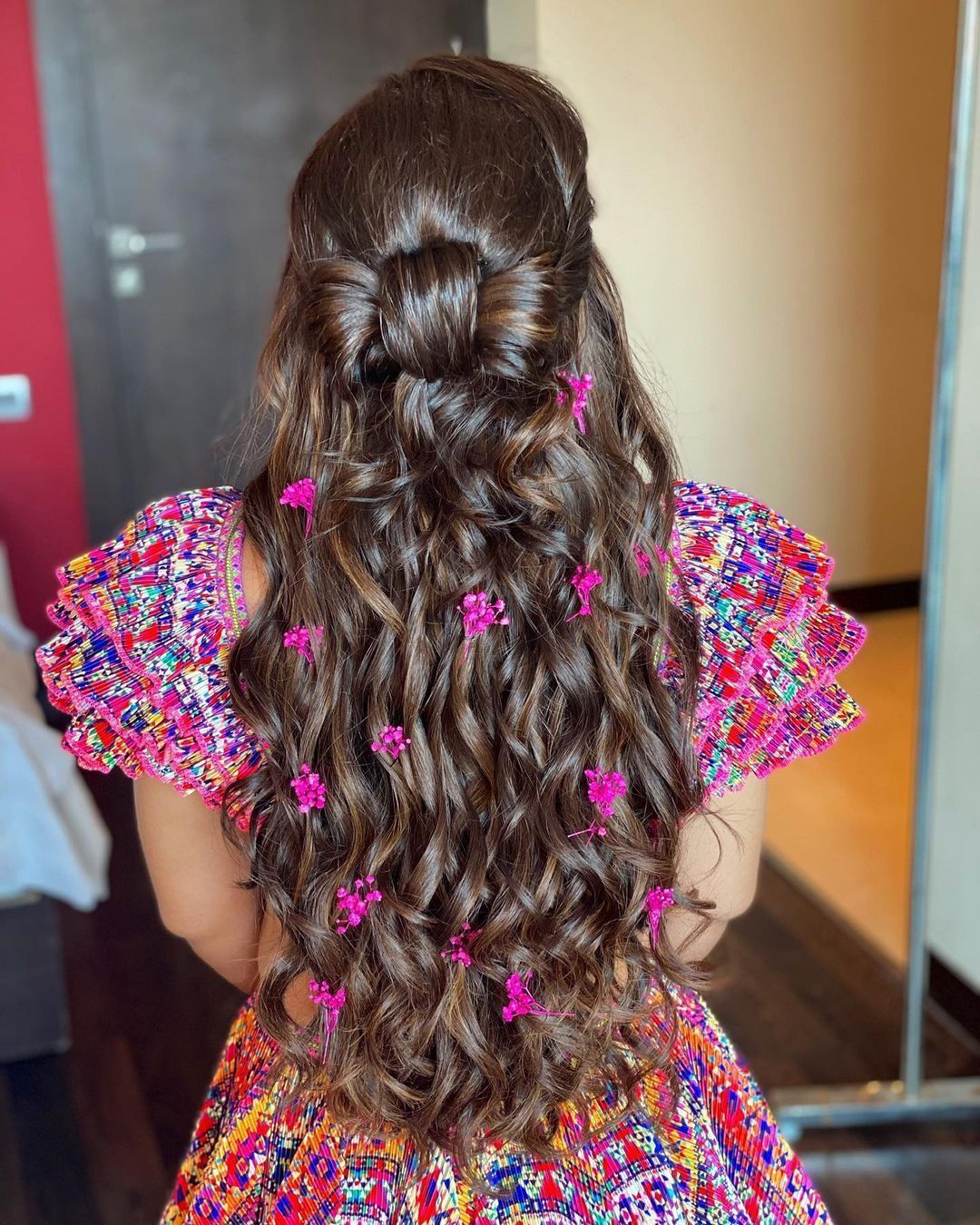 Image via Ritika Kadam
How adorable is this bow-inspired half up and down hairdo? We love the addition of the bow with the sprinkling for florals for a happy engagement day!
Half Up and Down!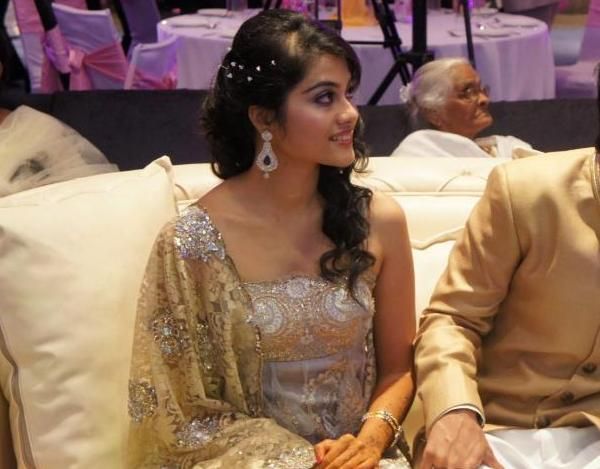 A simple half up and down hairdo with some diamond detailing. Love!
Want to see more? Check out 100+ Indian Bridal Hairstyles For Brides!