Unique Back Hand Mehndi Designs For The Bridesmaids!
Being the backbone of the bride is no easy feat! From following-up with the vendors to handling the bridechilla while looking your stylish best, there are truckloads of duties that a bridesmaid has to perform. And amidst all this hustle-bustle, pinning a beautiful mehndi design is probably one of the last things that comes to your mind! Hence, we decided to turn your ultimate saviours, and compile some of the prettiest  and unique mehendi designs ones for the back of your hands!
You'll be constantly photographed by the shutterbugs throughout the wedding shenanigans, and you sure wouldn't want to miss flaunting those mehndi-stained hands. So be smart and pick one of these gorgeous back-hand mehndi designs for yourself! 
Beginning the list with this refreshing back-hand mehndi. The symmetrical patterns here are so satisfying!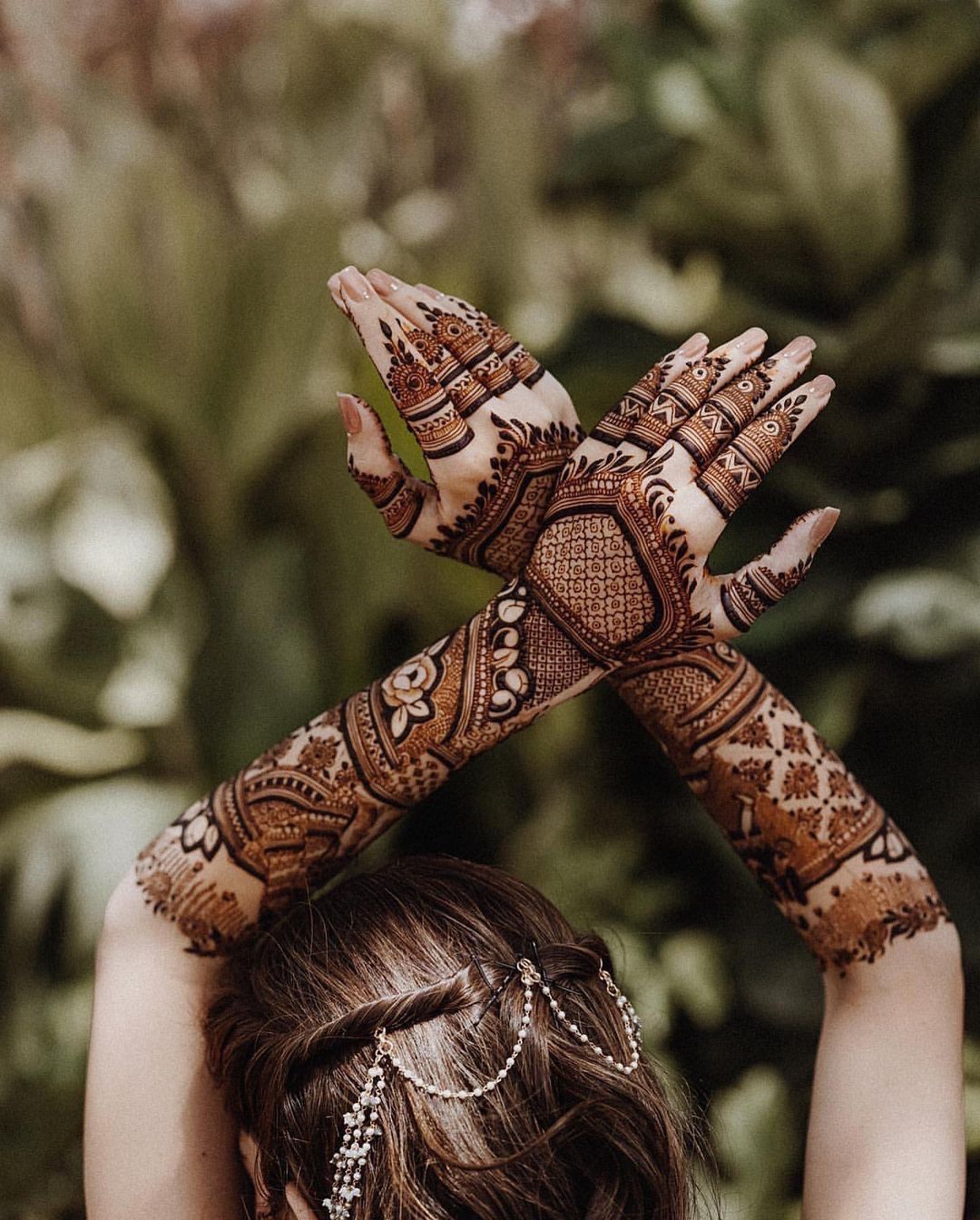 Image Via Alankritaa★ 4.9
Loving the intricacy with the unique bridal mehendi design. A superb idea for the brides as it simply looks beautiful. What we absolutely love about this design is it is simple yet eye-catching. The open space allows the back mehndi design to breathe and look more prominent.
If offbeat and elegant is your thing, this haathphool-inspired unique mehendi design has to be on your hit list!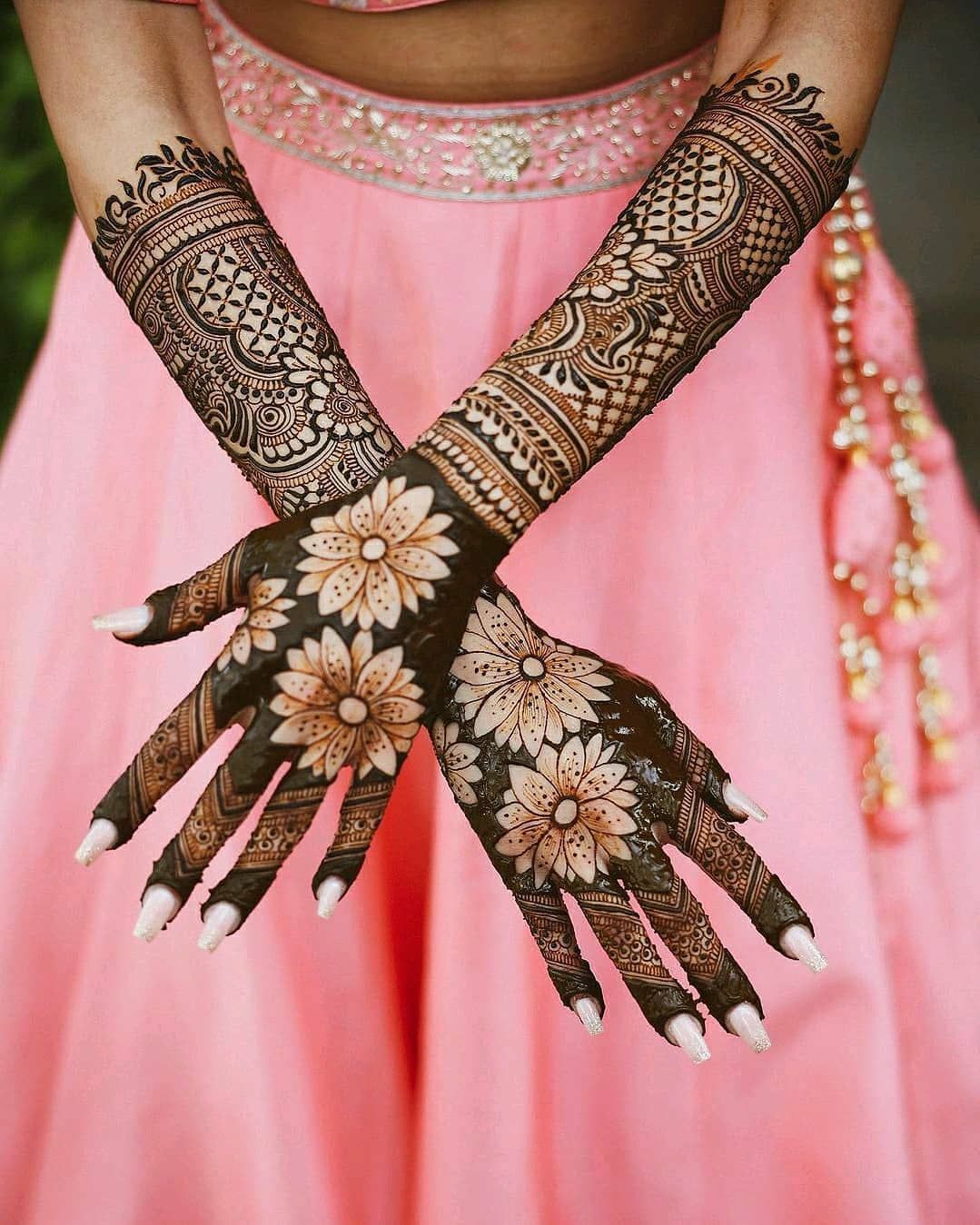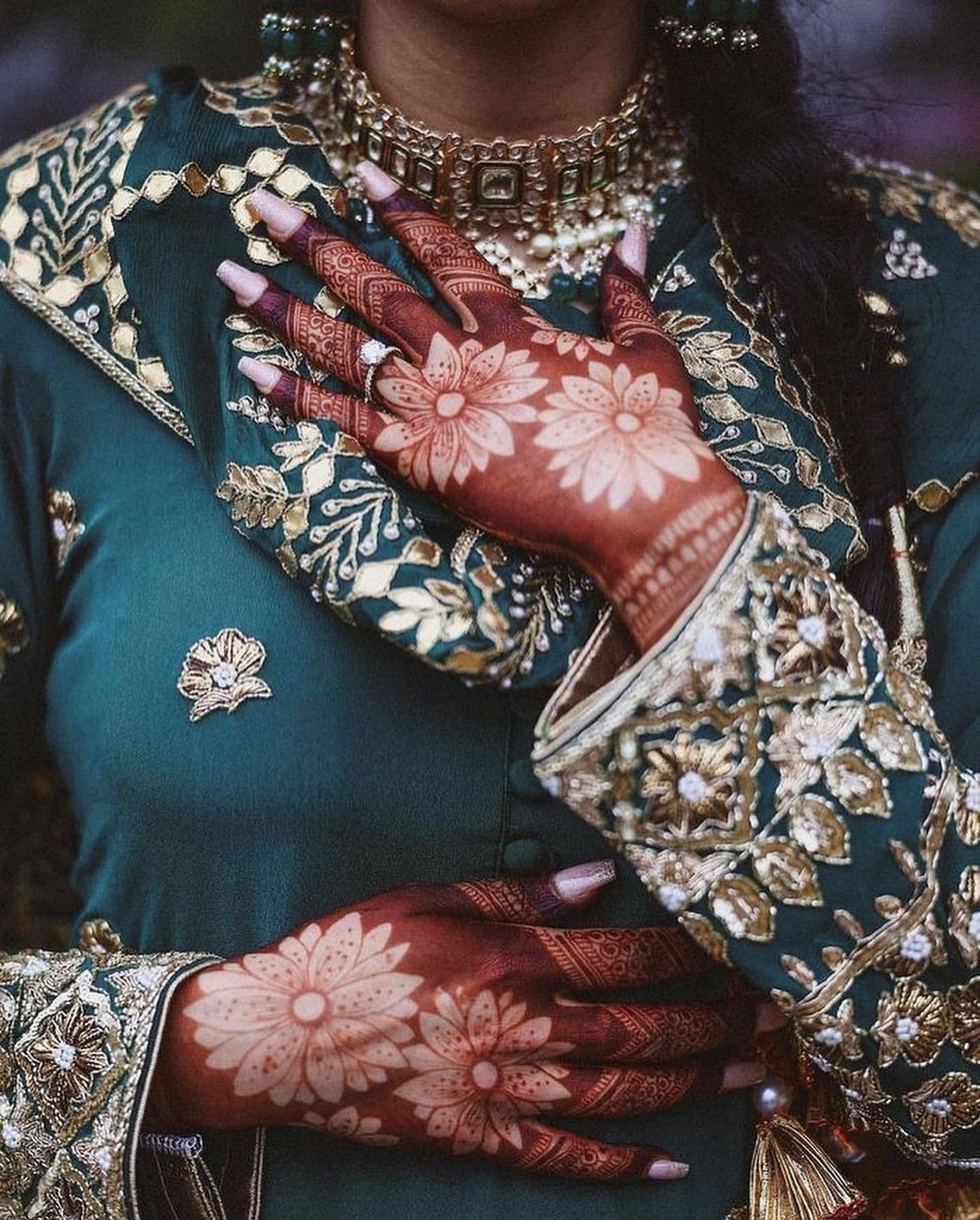 Image via Amrita Henna
This design can be perfectly included in the mehendi list of bridesmaids. A girly and unique hand mehndi design that is so simple yet so attractive. And the best part is this design is not time consuming at all and fuss free. It allows you to enjoy the festivities without any problem.
This half & half mehndi with elaborate lotus motifs & jaalidaar patterns is super unique!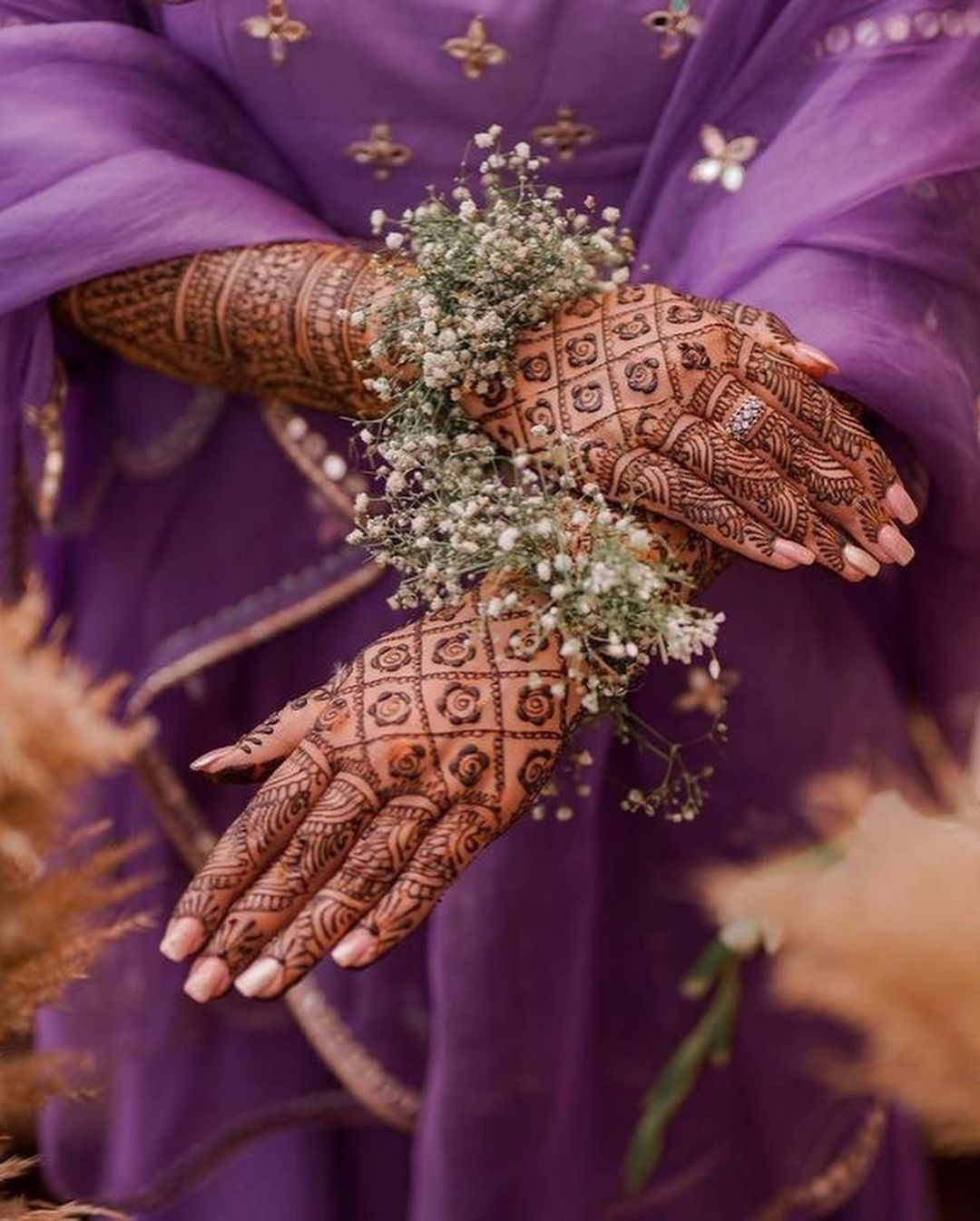 Image via Safarsaga Films
You also keep it simple and not loud by leaving some space for the rest of the design. This enhances the entire back hand mehndi design which we feel is an absolutely smart idea to make it a unique mehendi design for brides.
When intricacy meets elegance, you can't expect it to be anything short of stunning-Just like this hand back mehndi design!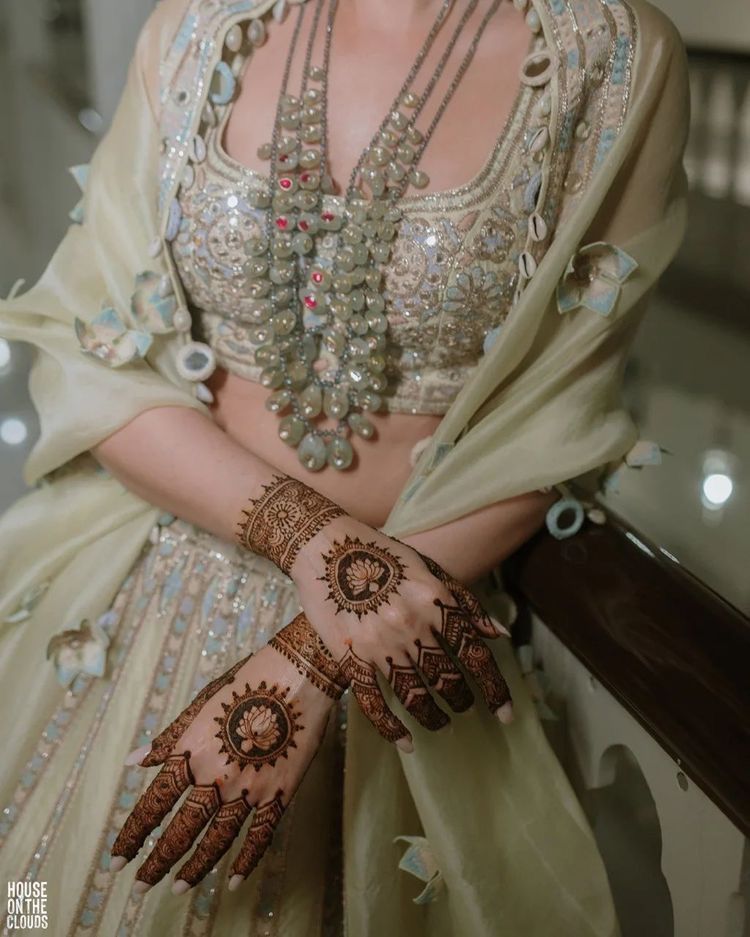 Image via Krunal Tailor Henna Artist
For bride's who don't want to compromise on their back side mehndi design, you can definitely bookmark this hand mehendi design. When applied with precision and consistency this design speaks volumes. Not only in terms of it's design but the gorgeous detailing. Which is exactly what is making this design so appealing.
Minimal & dainty, this back-hand mehndi is for all the contemporary bridesmaids out there!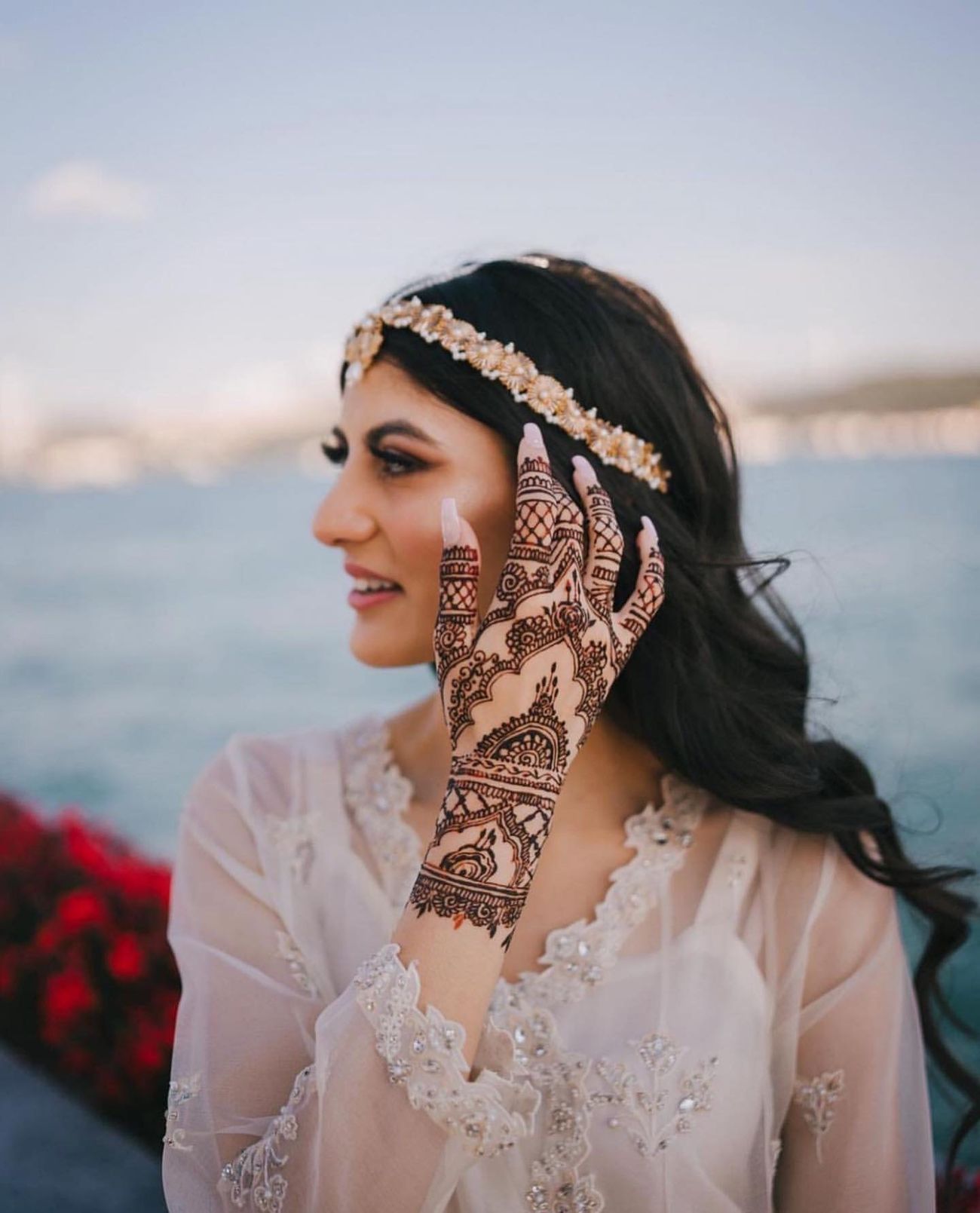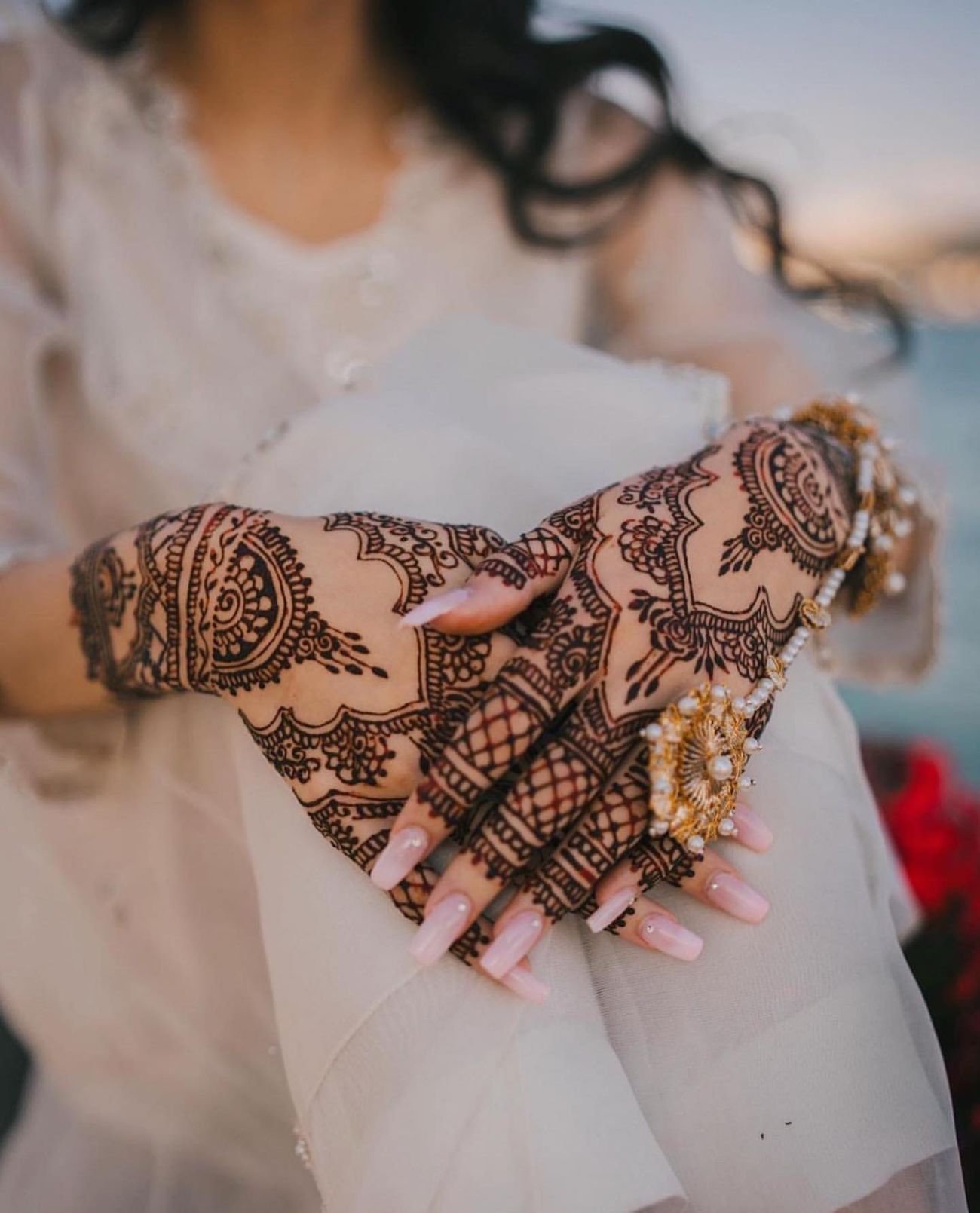 Image via Nurah's Henna
Just want a dash of hand mehandi design to be a part of the function? You can go with this classic design. Wouldn't take long to apply and just look at the gorgeous detailing! Still can't get how simple and unique this design is.
Here's one with mandalas henna design and beautiful finger detailings, you wouldn't want to miss!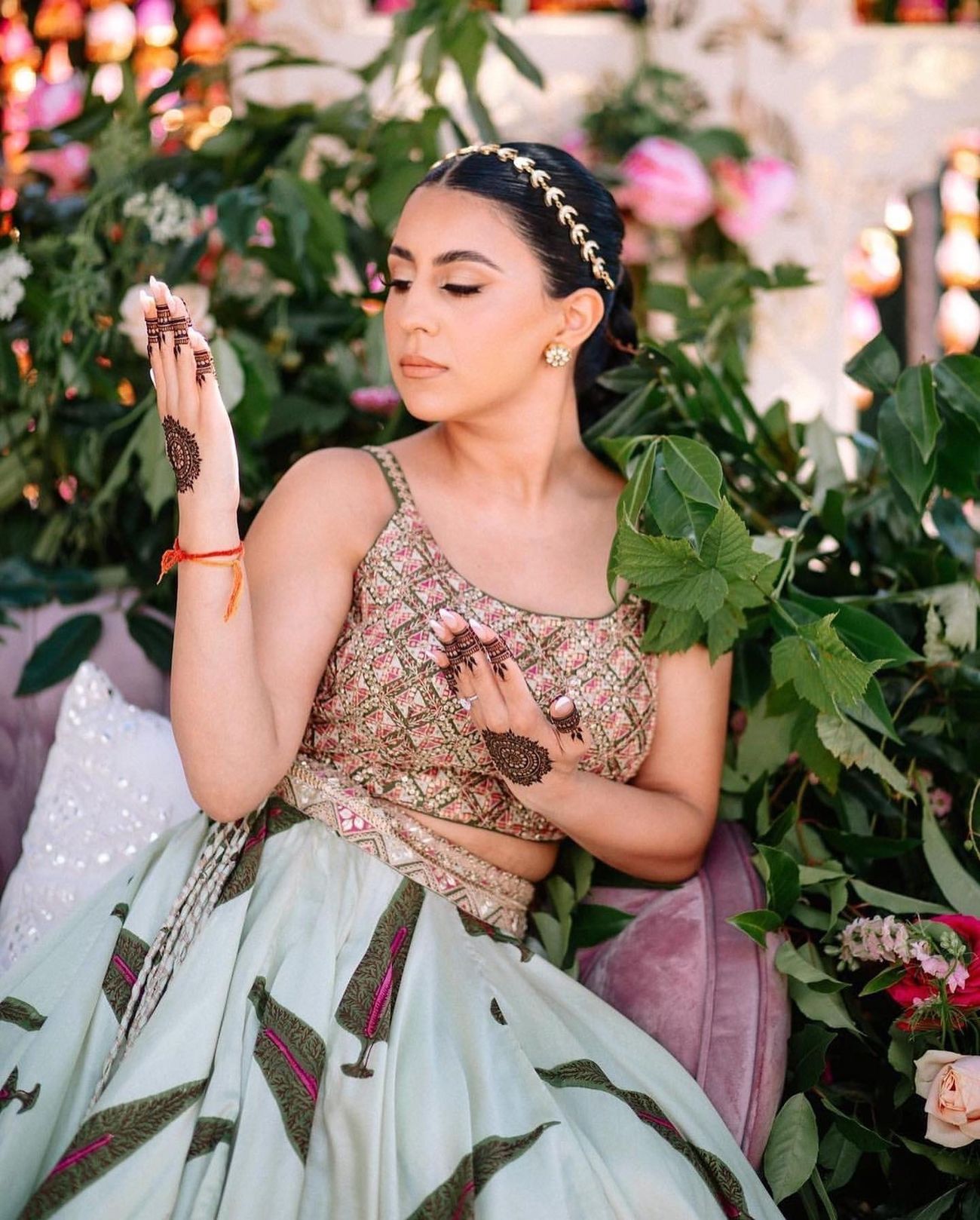 Image via Swastik Henna Creations
This semi circle mehndi design for back hand is full of leafy patterns and floral designs. The beauty of this design is that when the two hands are joined together a gorgeous circle is formed. 
Looking for a traditional hand mehendi design with a dash of modernity? Check this out!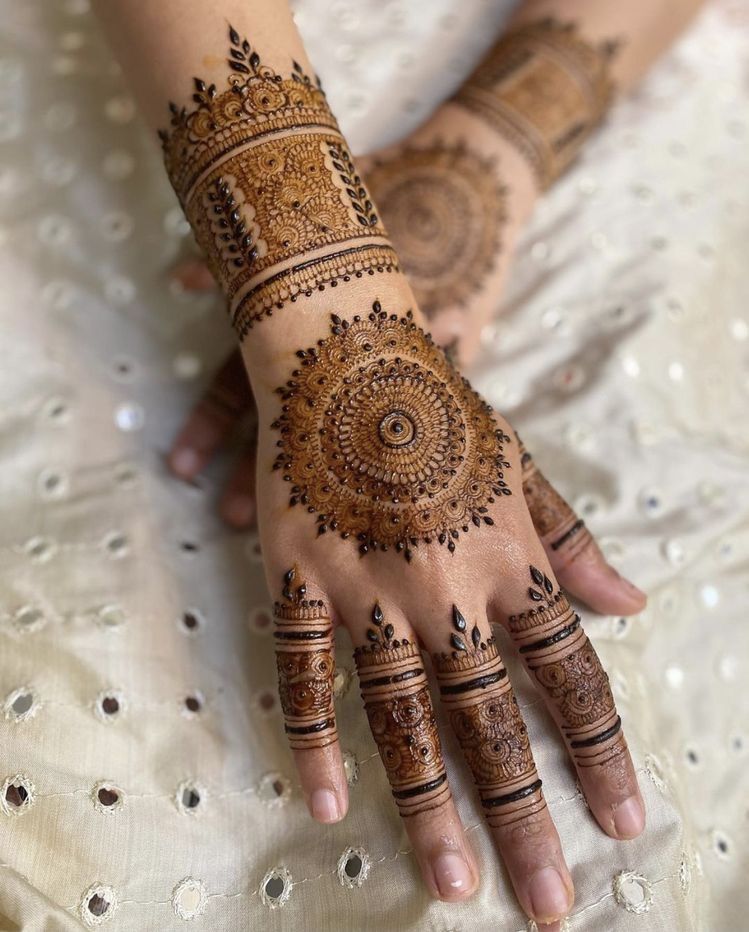 Image via Mehndi by Ravi
This mandala back mehendi design is one of our favourites. The amazing detailing is what took our attention. While the design ends above the wrist, you can always get it customised according to your requirements. 
Fun dotted hand mehndi design for the bridesmaid who doesn't wish to go basic!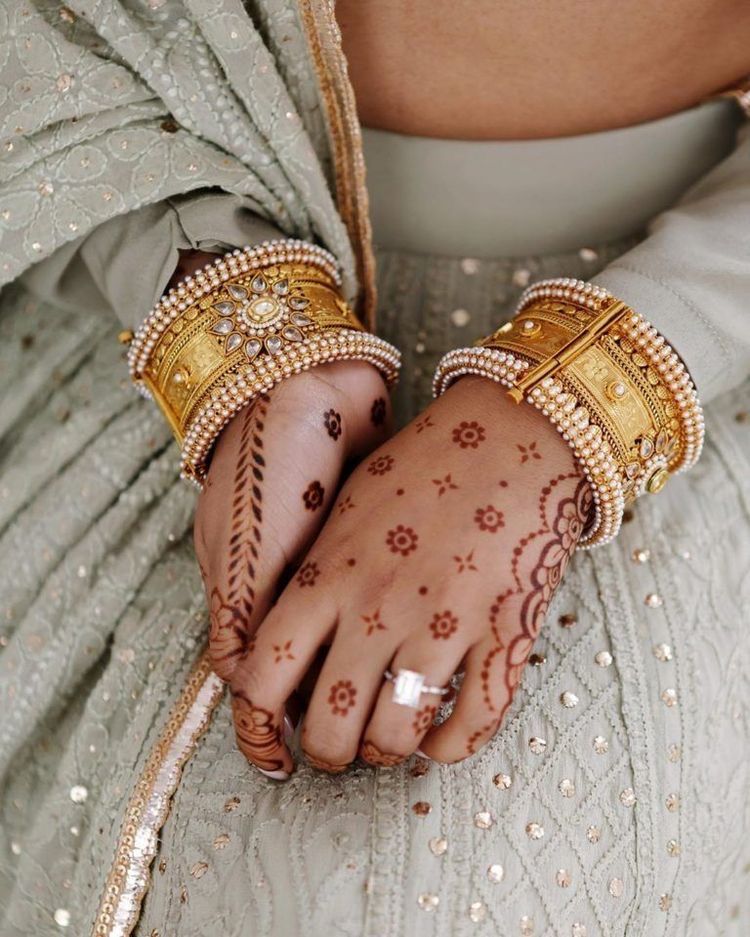 Image via Henna Lounge
With traditional being time consuming to make it, look at a back mehendi design which is unique in its own way. Go for small ways that can make your design entirely new and different. The geometric designs are something not many people prefer but they look pleasing.
Nothing screams fancy like this lacey gloves-like hand back mehendi design! (Pin it right away!)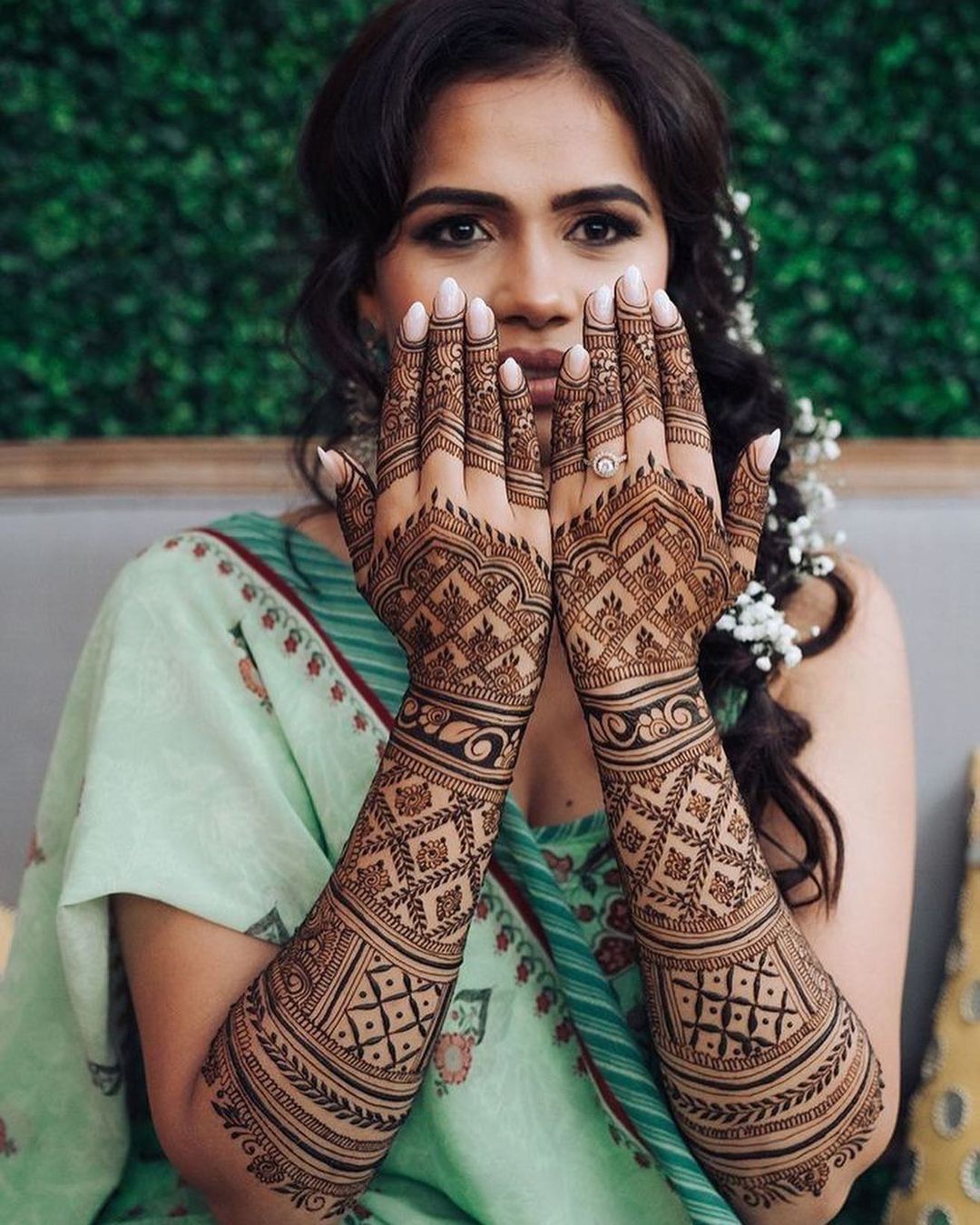 Image via The Henna House by Angela
Something never seen before and eye-catching. What makes this design stand out for us are the arches and the floral detailing inside it. Perfect for bridesmaids who want to fulfill their assigned duties along with having fun.
This spread-over jaalidaar back hand mehndi design enclosing a diamond-shaped motif will help you stand out of the crowd!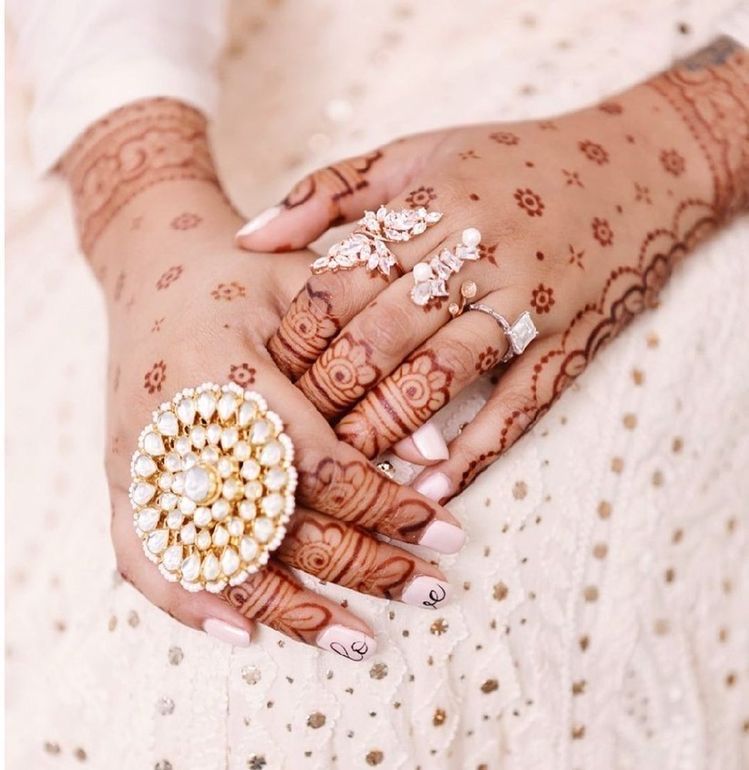 Image via Aman Mehndi
For someone who wants to make a strong statement with their back henna design. This is something quite appealing. Not only does this design speaks for itself it is also something we have never seen before.
And this combo of thin strokes and bold paisleys on fingers is just on point!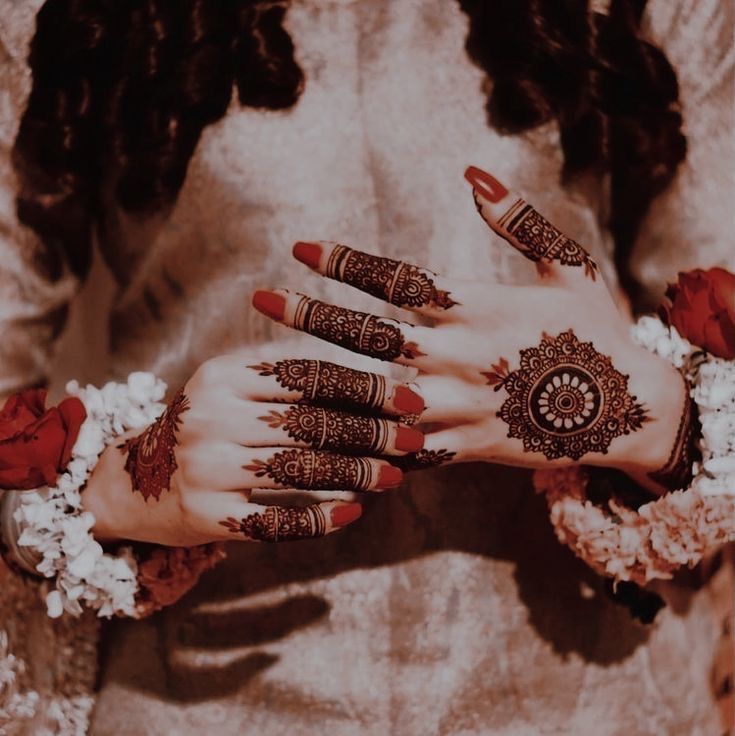 Image via Henna Paradise
Just the perfect design for a bridesmaid, this combination of a bel and a small patch covering the knuckles is so suitable for the back of the hand unique mehendi design. Simply beautiful and gorgeous! The arch with flower detailing and the leafy patterns is a really good combination.
For bridesmaids who are a fan of elaborate and modern henna patterns!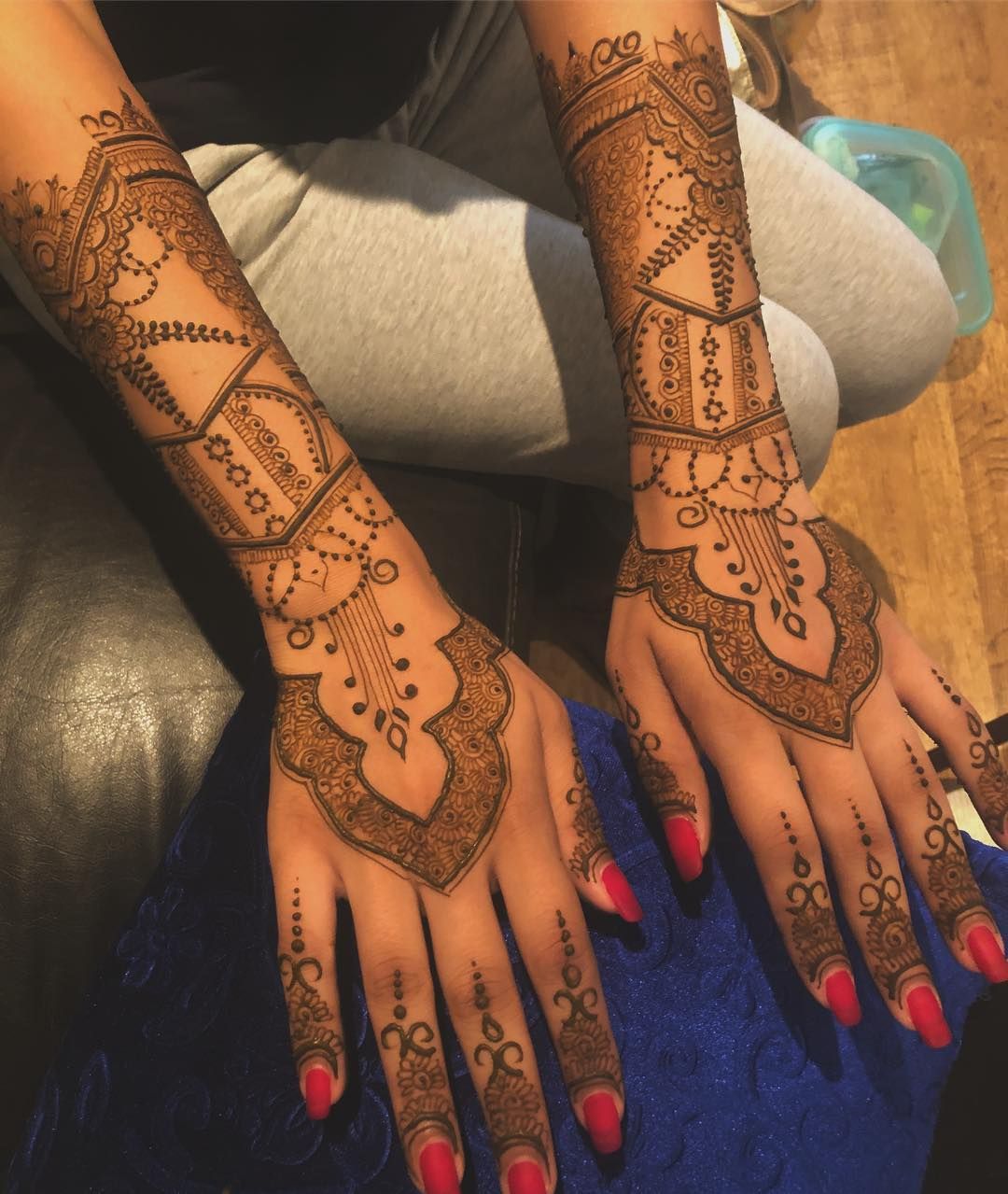 Image via N.Rai Henna
If you want a design which covers your hand till your elbow but also don't want the hand to be full of mehndi then this design is the one for you! The unique mehendi styling is what makes it different and bookmark worthy.
Move over those usual bel mehndi designs give this swirling one with dotted patterns a try!
Image via Nizami Mehendi Arts★ 4.8
Indeed a different and unique mehendi pattern than most of the ones included in this list, this mehendi design is simple in its own way and charms like no other! Perfect for the mother of the bride or groom and bridesmaids, this design is quick to apply and fuss free.
Here's another intricate mehendi design that's so unique!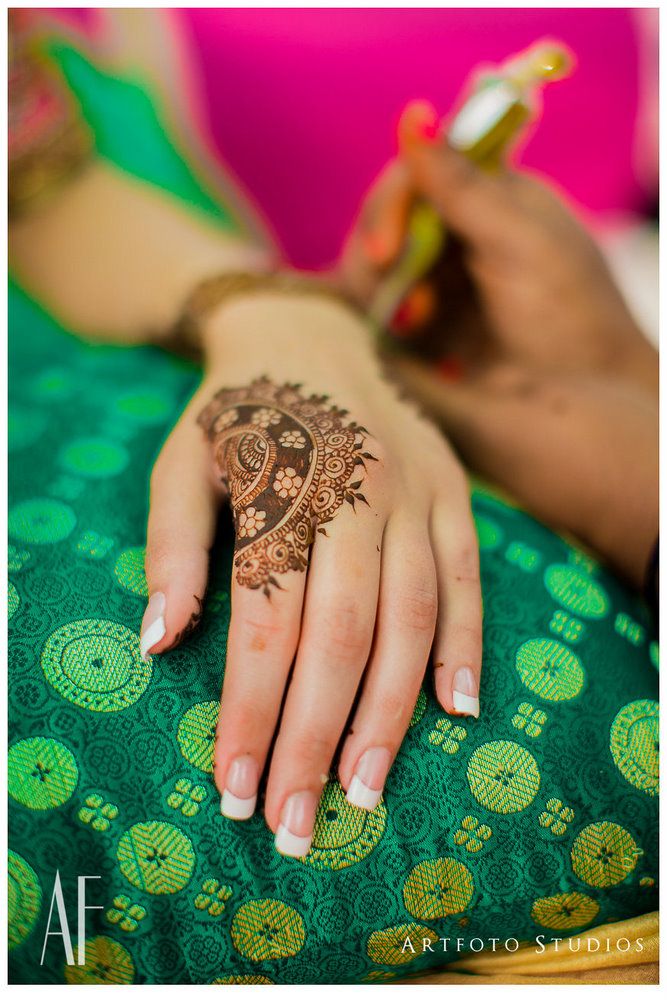 Image via: Sriniwasan Mehendi Artist★ 5
You can leave the idea of filling up your hand with mehendi and rather get it done in patches so that it looks full yet gives a little breathing space to your hand. The semi circular design and the design on the wrist looks complete in itself. And has a contemporary yet traditional touch to it.
Next in line ladies? Another perfect unique mehendi pattern for the bridesmaids over their ring finger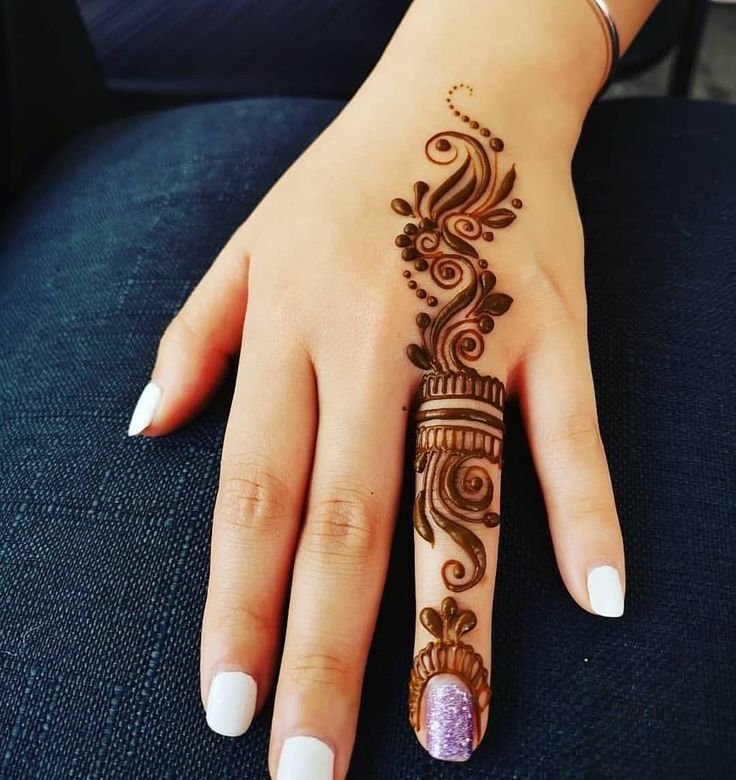 Image Via: Rinku Mehandi Arts Jaipur★ 4.9
Not really a fan of mehendi? Well you can simply show the token of love for your bridey by applying just a little on your ring finger. Does not look incomplete instead, chic and fashionable. And the best part about stylish back hand mehndi designs is it will only take a few minutes to make this.
Brides get yourself reminded of those stick figures you used to draw when you were a kid with unique beautiful mehendi design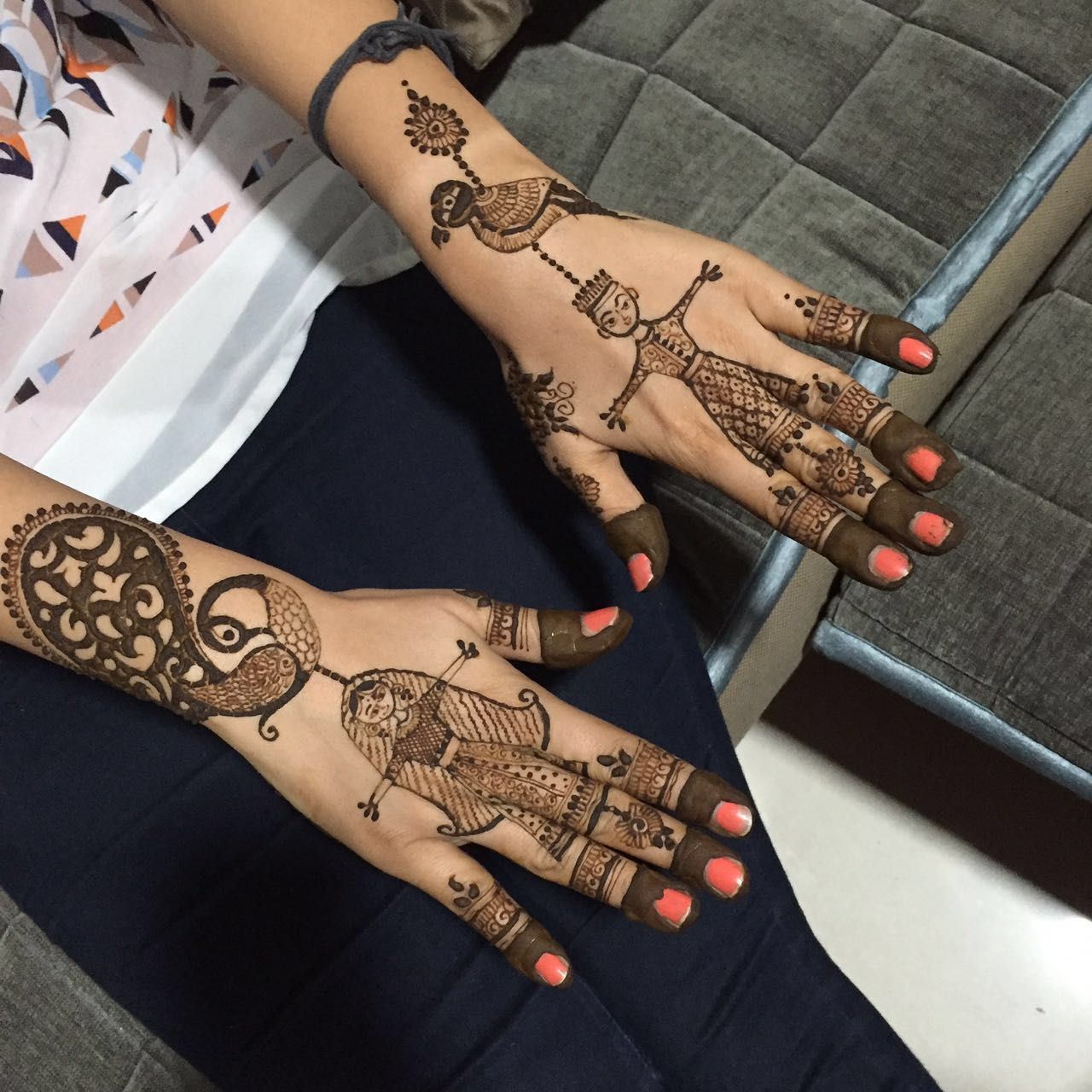 Image via: Lata Mehandi★ 4.9
Stick figures mehendi back designs have always kept their charm since our childhood. We're sure that everybody is familiar to those. So why not add them to your mehendi design ideas and make it look different than everybody!
White henna designs all the way most unique design best for modern brides!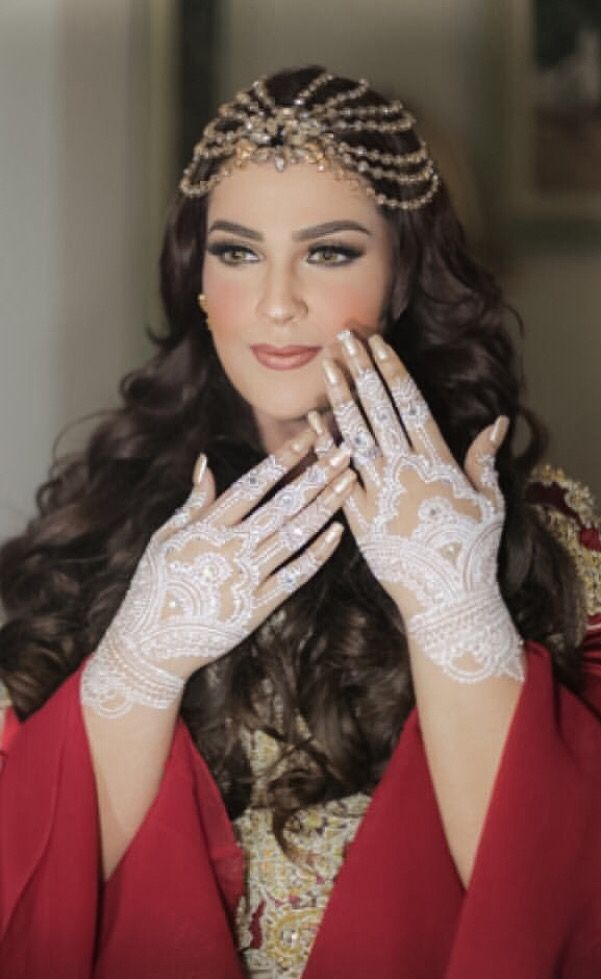 Image Via: Mumbaimakeupartist by Kisha★ 4.7
We recently witnessed a bride who wore all white for her wedding including her mehendi design. White back side mehndi designs are slowly taking over the trend and simply look gorgeous. So if you're a bride who likes to take a different and unique road then we say try this trending back hand mehendi design.
This minimal hand mehandi design can without a doubt be added to your list of unique mehendi designs!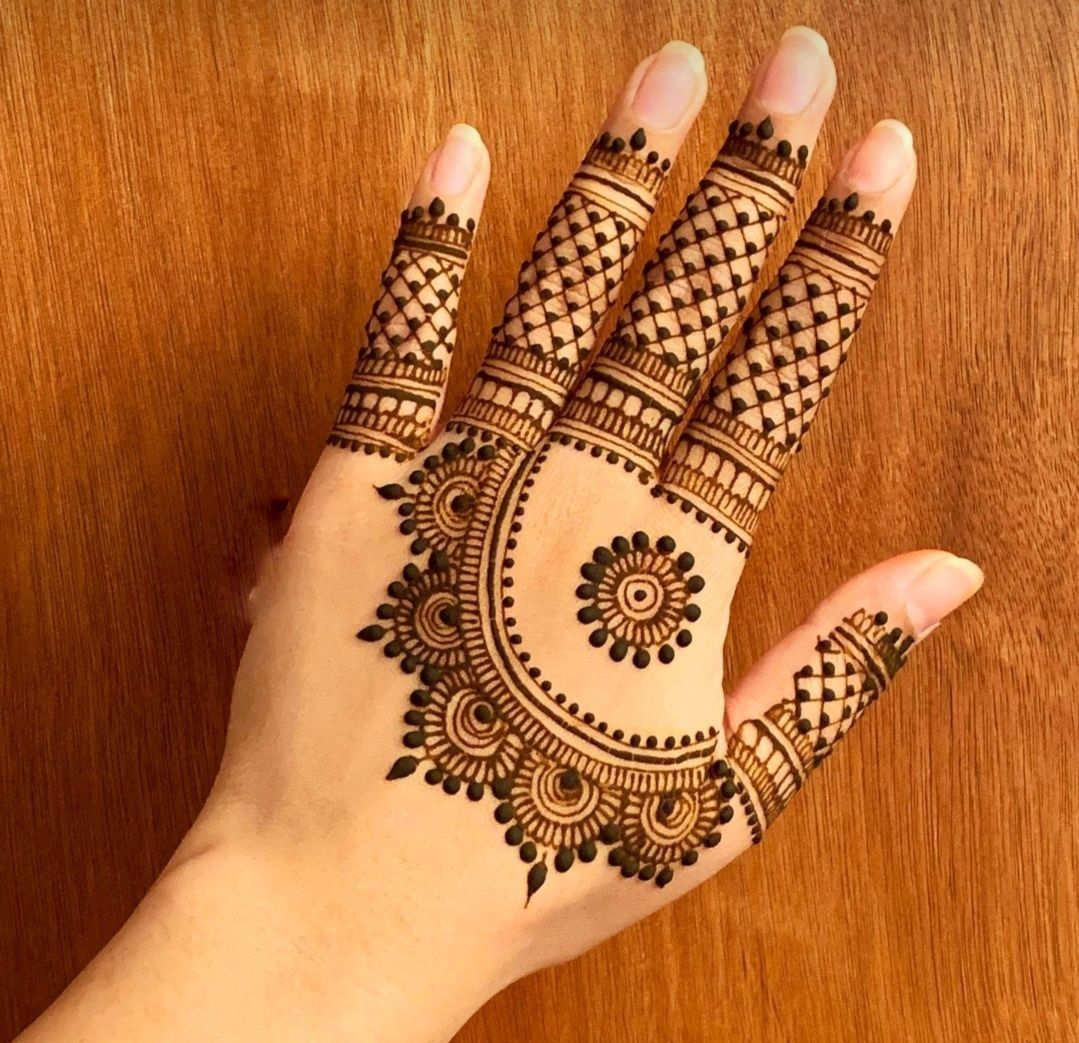 Image via: The Bridal Stain★ 5
This circular shaped pattern with checkered fingers half hand mehndi design is yet another beautiful design for the bridesmaids. The speciality of this design is that it makes the back of your hand look complete yet leaves a space for your hand accessory like bangles or kadas. And the best part is, this design won't keep you waiting and you'll be able to enjoy all the festivities.
We're in awe after seeing this elegant and gorgeous mehendi design for a bride!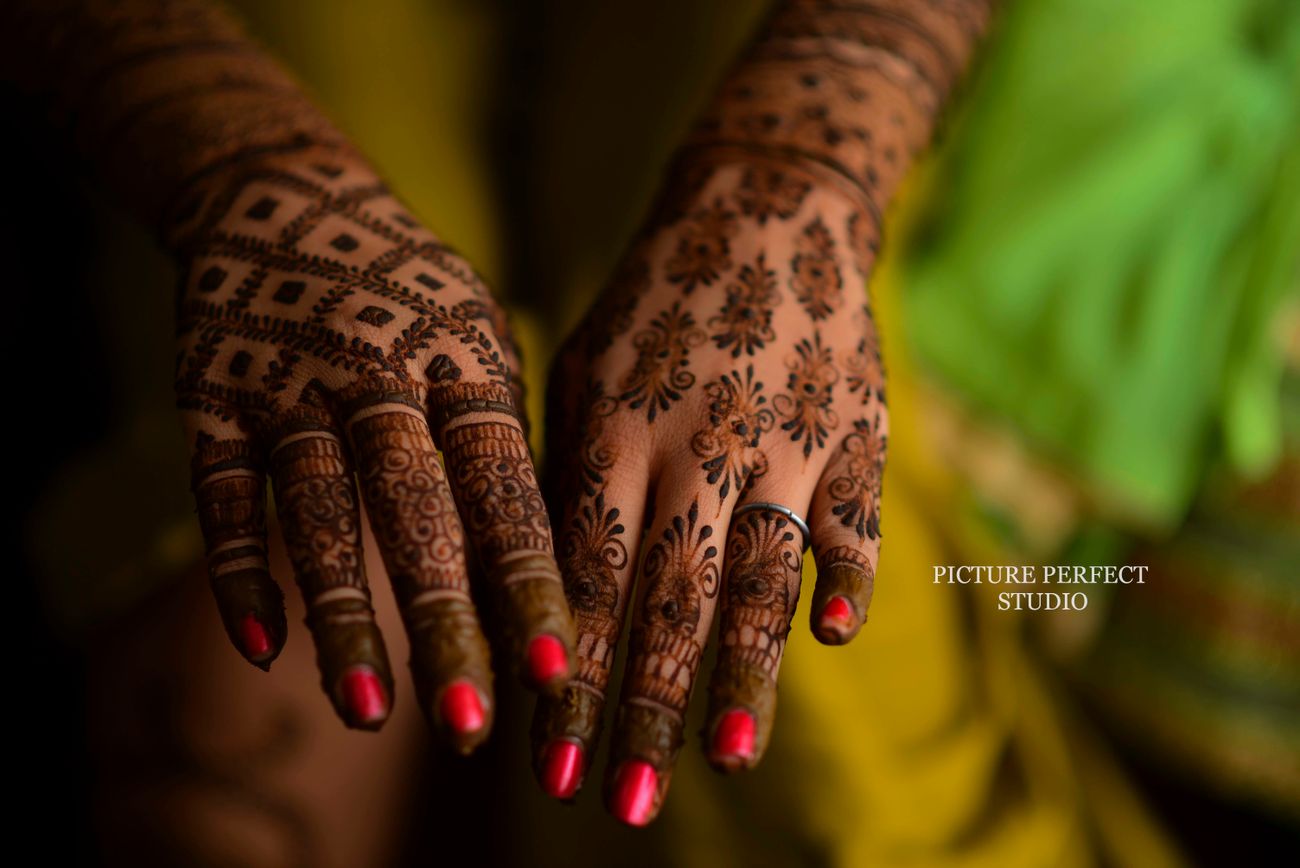 Image via: Picture Perfect Studio★ 4.9
There is no rule that you need to get the exact same modern back hand mehndi design on both your hands. These small butis covering the back of the hand is something different other than those symmetrical lines and makes it look super duper unique.
Why not add intricacy with a mix of bold? This back hand mehndi design can win hearts of all the brides plus their bridesmaids!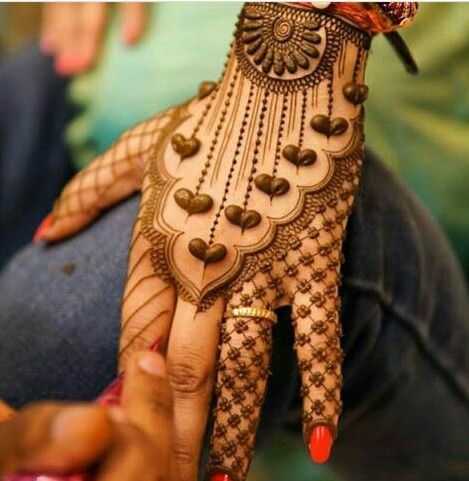 Image via: Raju Mehendi Artist GK★ 4.8
Like we always say, mix and match never goes wrong! If we can do that with our trousseau, then why not with our back side mehndi design? The bold hearts with thin lines of the mehendi go exceptionally well and makes it look another unique beautiful mehendi design!
Floral literally defines every girl, so why not add a little to your patterns of mehendi designs?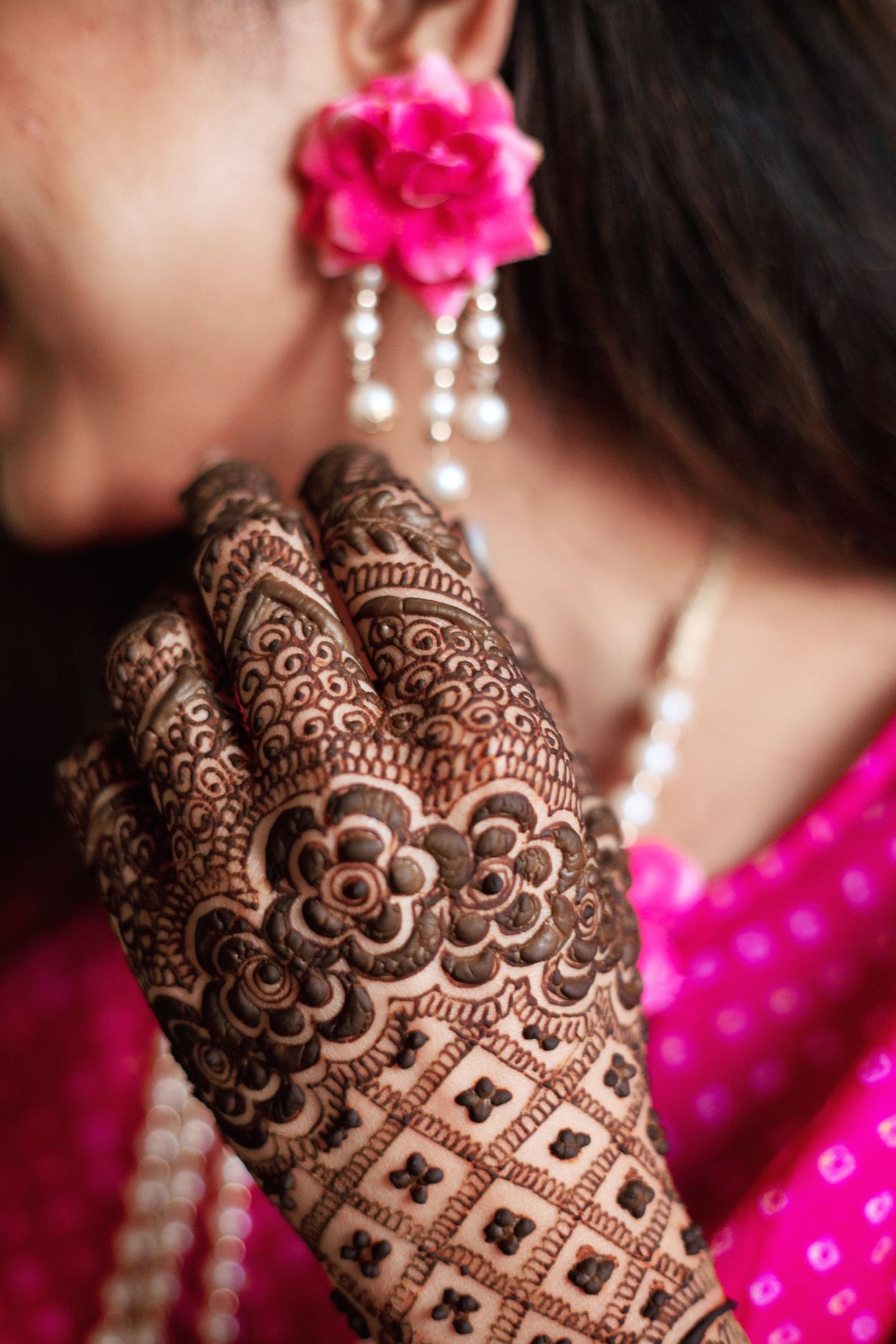 Image via: Violet Portraits ★ 5
This floral back hand mehndi design pattern mixes really well with the rest of the mehendi and gives out some old school charm and elegance to it. And we bet you'll love this design as much as we do and we say why not? It has a modern as well as traditional touch. Once you see it, you'll be all up for this design.
Modern mehendi functions require modern mehendi designs ideas! What say?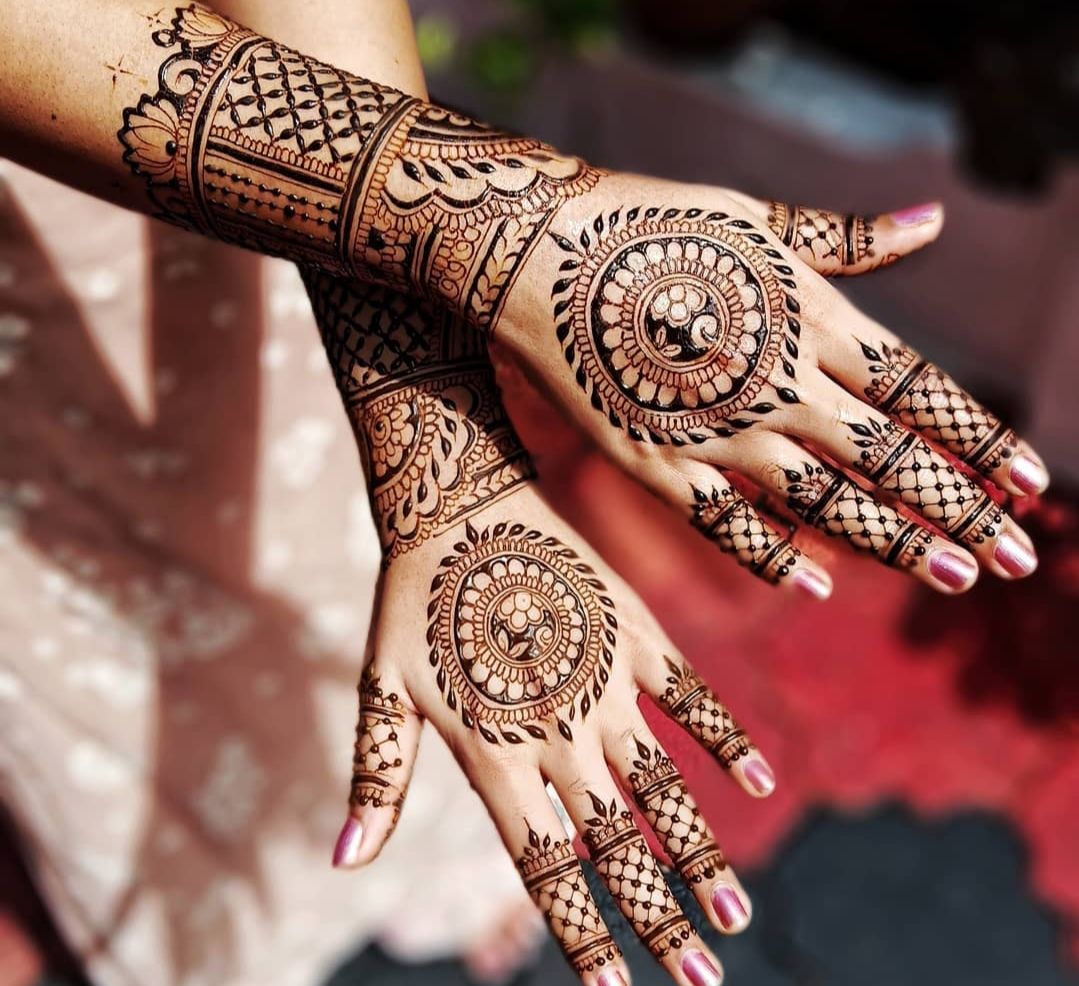 Image via: Mehendi by Zuha★ 5
Bridal functions these days are so very trendy and modern, so why not get a design made which is versatile, modern and unique in its own way like this very pattern. Does not look too smudgy but with the looks of it, we get to know the bridey vibes behind it!
A little more is never too more! A lot of elements can be considered into more the merrier but not less with this unique mehandi design.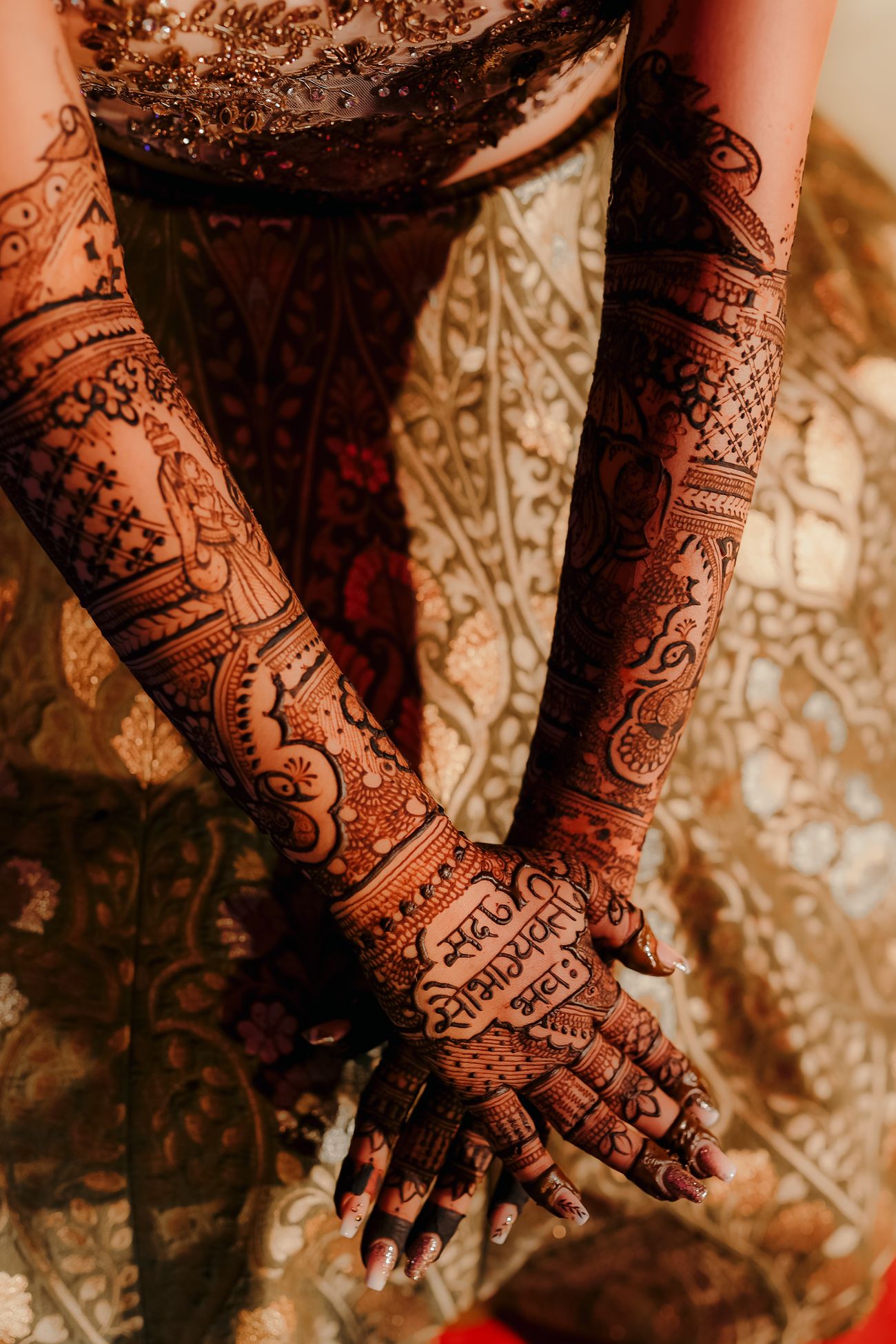 Image via: The Shadi Vibes★ 4.9
Go to lengths and do not settle for less. Instead of patterns you can go for texts in hindi or your ship name or an outline pattern of the bride and the groom. The more it is the more you can fill it with making the most mehendi design!
Found the perfect one for yourself? Share with us in the comments below!
*Updated by Smridhi Sablok